2017 Family Treasure Hunt Sponsors & Supporters
In 2017 the Julian Wadden Family Treasure Hunt raised £1,450 for the park. This was made up of £146 donations on on the day, £289 raffle takings and £1,015 of local business sponsorship. This year the money went into our general fund and was used to pay for tools and maintenance materials, plants and seeds, repairs to the Jubilee Flowerbed in front of the library, our public liability insurance and several other minor administrative costs.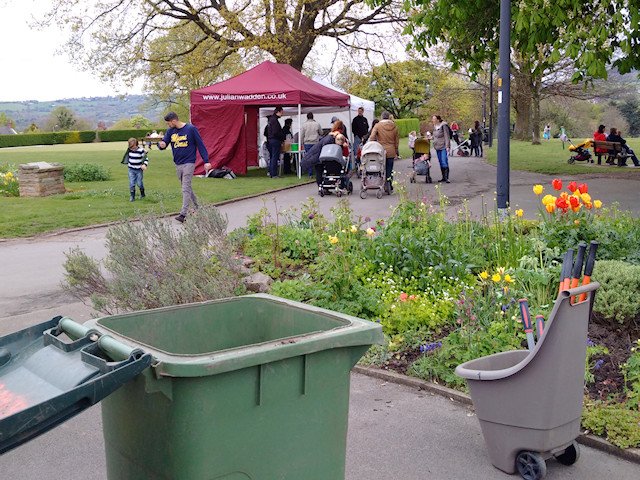 2017 Treasure Hunt in Memorial Park
Thank you to the following local businesses for their support in 2017:
Sponsors and Raffle Prizes:
Marple Co-Op https://twitter.com/Marple_Coop
Marple Physio http://marplephysio.com/
Rope Race Climbing Centre http://www.roperace.com/
Samuel Oldknow Bar https://www.facebook.com/oldknowsmarple
£100 Sponsor:
DJS Research: http://www.djsresearch.co.uk/
£50 Sponsor:
Rolling Pin on Stockport Road
£30 Sponsors:
A.C.M. Financial Services Ltd http://www.acmfinancialservices.co.uk/
Angkor Soul Cambodian Cafe http://www.angkorsoul.uk/
Brabyns Preparatory School http://www.brabynsprepschool.co.uk/
Hatters Arms Public House https://www.robinsonsbrewery.com/thehattersarms
HB Printing http://hbprinting.co.uk/
Helen Winterson http://www.helenwinterson.co.uk/
John Oldham Plastering http://www.plastererhighpeak.co.uk/
Jones Law Partnership http://www.joneslawmanchester.co.uk/
Kathy's Caterpillars Childcare https://www.facebook.com/KathysCaterpillars
LSA Technology http://www.lsa-technology.co.uk/
Malcolm Shaw & Son Ltd http://www.malcolmshawandsonltd.co.uk
Marple Drama http://marpledrama.com/
Marple Health Shop http://www.marplehealth.co.uk/
Marple Local History Society http://www.marplelocalhistorysociety.org.uk/
Marple SPAR at Rose Hill http://stonespar.co.uk/
Marple Veterinary Centre http://www.marplevet.co.uk/
Rhodes and Partners http://www.rhodesandpartners.co.uk/
Ridings Opticians http://www.ridingsopticians.co.uk/
Roger Fisher Opticians http://www.rogerfisheropticians.co.uk/
S Duddy Roofing Contractors & Merchants http://www.sduddy.co.uk/
Shop Local Club Card http://shoplocalclubcard.com/
Torevell Calvert (Accountants) http://torevellcalvert.co.uk/
Trek 'n' Travel https://www.trekntravel.co.uk/
Whiting and Mason http://whitingmason.co.uk/
£25 Sponsor:
The Springfield Hotel http://www.springfieldhotelmarple.co.uk/
Raffle Prizes:
All Things Nice http://www.allthingsnicedeli.co.uk/
Chocabean Chocolate Creations https://www.facebook.com/Chocabean-Chocolate-Creations-1099655513452904
Cloudberry Cafe https://www.facebook.com/cloudberrycafe
Co-Op Travel https://www.co-operativetravel.co.uk/
Costa Coffee Marple https://www.facebook.com/Costa-Coffee-523108817815868/
Duncan & Denise Newsagents
Harmony Decor http://www.harmonydecor.co.uk/
Gosling Toymaster https://www.toymaster.co.uk/
G.R. Yeates Ltd (Shell Garage on Stockport Rd).
Littlewoods Butchers http://www.littlewoodsbutchers.co.uk/
Lower Dale Equestrian Centre / Magpie Cottages http://www.lowerdalefarm.co.uk/
Marple Golf Club https://www.marplegolfclub.co.uk/
Nitrotek Ltd http://www.nitrotek.co.uk/
Northern Souls Barber Shop http://www.northernsoulsbarbershop.co.uk/
Ring o' Bells Public House https://www.robinsonsbrewery.com/ringobells
Ruby Blue Boutique http://rubybluemarple.co.uk/
Semitone Studios http://semitonestudios.com/
Sew-In, Marple http://www.myknittingyarnandwool.co.uk/
Simon Dunn Chocolatier http://www.simondunnchocolates.co.uk/
SVC Lighting and Electrical http://www.svclighting.co.uk/
Swizzels https://swizzels.com/
Target Fitness, Marple http://www.lifeleisure.net/enterprise/Marple
The Bookshop (Marple) Ltd
The Hound Dog Grooming Spa http://www.thehounddoggroomingspa.co.uk/
Wyevale Garden Centre, Marple https://www.wyevalegardencentres.co.uk/stores/marple-2164/
Please support these local businesses!