Task Days 2018
Here are details of our task days in 2018. They're held on the last Saturday of each month in the winter and the middle and last Saturday from April to September. The next one is scheduled for:
Saturday 29 September 2018 between 10am and 2pm.
Everyone is welcome to join in for as long or as short they wish during the specified times. Please note that children should be accompanied by a responsible adult.
Task Day 15 September 2018
A sad task today was to remove part of our Midnight tree sculpture that was becoming unsafe. We created this wonderful addition to the park in 2007, when the tree from which it is carved was declared unsafe. It was great to bring something positive from the demise of this mature Copper Beech that has lasted more than 10 years but unfortunately as the carving was still rooted in the ground in the long-term its decay was inevitable. We have asked Myers Tree Care to remove the rest of it as soon as they can and we hope to find a way to replace it with something new in the future.
Other tasks included lots of work on the park's flowerbeds, the addition of paving slabs in front of one of the skatepark seats to create a hard-standing and work in the Bandroom garden. We also ventured outside of the park today to begin repainting the Lock 17 gates. This is another local feature that we helped to create in 2007 and is now maintained by our volunteers.
Back in the park, visitors dropped just over £15 into our collection bucket to in appreciation of our efforts.
It was great to see kids playing on our latest addition to the park - the new Ocean See-Saw in the Infants Play Area.
Read more about the creation of Midnight the Tree Sculpture.
Task Day 25 August 2018
Too damp for painting the Infants Play Area fence this time, so most of our volunteers got stuck into a tidy-up of the Breathing Places Reading Circle behind the library. There was also some hedge trimming done at the Bandroom cottage and maintenance of park benches continued. Later on we also managed to get a coat of gloss on the Bowling Pavilion door.
Looks like we had the best of the Bank Holiday weather for our efforts!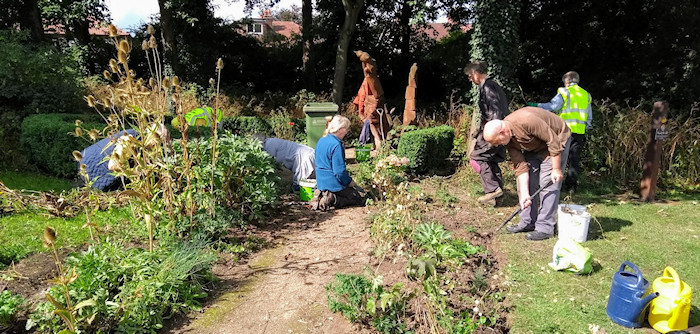 Thank you to generous park visitors, who popped just over £17 into our collection bucket.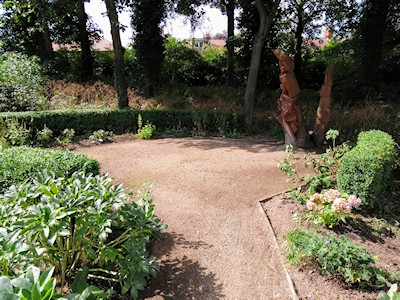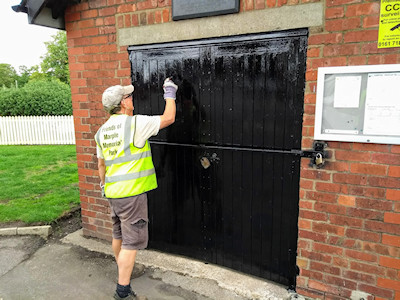 Task Day 11 August 2018
Today the weather was just about perfect and we had a much more successful painting day and managed to make a decent amount of progress on the Infants Play Area fence. Still a long way to go though! Other volunteers worked on the main flowerbeds, litter picking and the treatment and maintenance of park benches continued too.
Park visitors popped just over £13 into our collection bucket to say thank you for our efforts to keep the park looking its best.
Task Day 28 July 2018
Today's planned "big task" was to get stuck into painting the Infants Play Area fence but although we made a nominal start the wind forced us to stop and do something else. More successful tasks included planting and maintenance in the Sensory Garden and the Scout Hut bed, strimming in the Bandroom garden and ongoing treatment of benches. The benches that have had the metalwork repainted are looking particularly good.
Thank you to park visitors, who showed support for our efforts by placing almost £8 in our donation bucket!
Task Day 14 July 2018
We were all over the place on our task day today! Volunteers worked on the Jubilee Bed near the library, the main flowerbeds, the entrance to the park down by the cinema, the bandroom garden, on benches throughout the park and on the pavilion store. At one point we even had a volunteer clearing the drain in the car park and recovering three buckets of soil!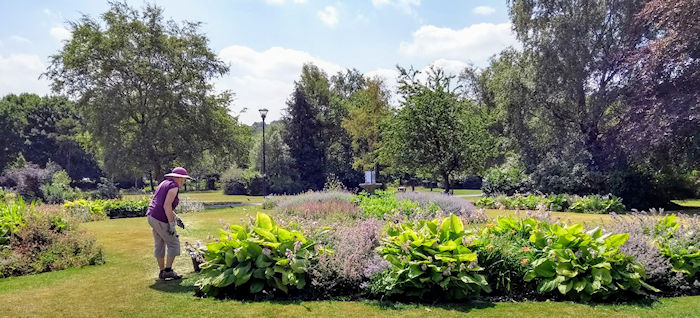 We are often told that the park looks better than it ever has and it's great to know that what we do is appreciated. Generous park users confirmed this by donating over £17 towards the upkeep of the park in our roving collection bucket.
Open Gardens 7 - 8 July 2018
Friends of the Park were delighted to be involved in the organisation of Open Gardens in Marple.
During the two days of the event we had an information point in the park, where we sold tickets, ran a raffle and talked to visitors about the open gardens and about our work in the park. It was a huge success and we were very pleased to play our part in raising an amazing £11,500 for Cancer Research UK!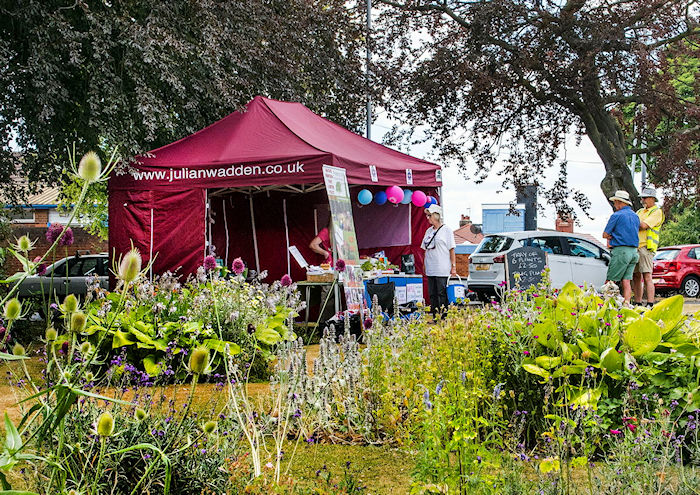 During Open Gardens we took the opportunity to have a dry-run on the installation of 141 knitted poppies on the war memorial railings. This is one poppy for every man on the memorial killed during WWI and will be repeated in November this year for the 100th anniversary of the end of the Great War. Didn't they look wonderful!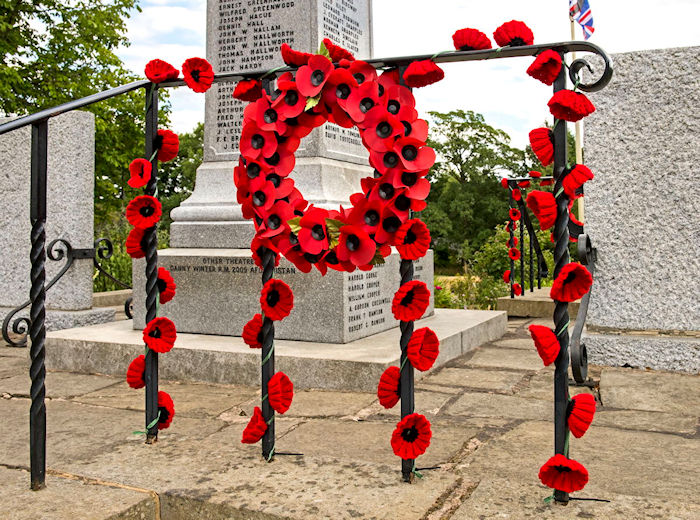 Special Task Day 26 June 2018
Today we compacted the French Boules Court using a Wacker-Plate from Wright Hire. A big thank you to them for delivering and collecting the machine to the park for us and charging us a preferential rate for the hire. It was a hot and dusty task but it's now even better than when the contractor did it originally back in 2008.
Special Task Day 25 June 2018
Today we had a special task day with Marple College. Public Services students Gina and Sarah, plus their teacher Adam, joined us to spread 6 tonnes of material to top-up the French Boules Court that we originally constructed in 2008. It was a daunting task for just 6 people in today's heat but on average we shifted a tonne each in around one and a half hours. So a very big thank you to Gina, Sarah and Adam, and we wish the girls good luck in their Public Services careers, whatever they decide to do.
Task Day 23 June 2018
Today's Task Day was rescheduled from 16 June as it had clashed with the Carnival. Of course we were there and this year we were promoting Open Gardens in Marple and raising funds for Cancer Research UK by selling plants and tickets.
The big task today was distributing fresh new soil onto the main flowerbeds and the war memorial beds. The soil was provided by Stockport Council but was delivered much later than we had hoped, so it was quite a challenge to spread in the beds as they are so full of plants. Despite that our volunteers did really well and distributed all 4 tonnes we'd had delivered. Other work included strimming the grass in the Bandroom garden and treating benches throughout the park.
We've done a number of ad-hoc task days recently too, including regular watering of new plants because the weather has been so dry. Many of these are in the circular flowerbed, which this year is dedicated to 100 years since the Vote for Women. We've worked in partnership with local group Equality Matters Marple on the artwork for this and we're very pleased with the display.
We've also replanted the pots beside Corporal Danny Winter's bench recently. We feel that Danny's bench has become a really important feature in the park and we try very hard to keep the pots looking their best.
As well as the recent topsoil delivery we have also received 6 tonnes of material to top up the French Boules Court and we'll be doing that with the help of students from Marple College next week.
Thank you to park visitors, who showed support for our efforts by placing over £24 in our donation bucket!
Task Day 26 May 2018
Another busy task day from Friends of the Park, mostly working on the main flowerbeds and the Sensory Garden but also treating benches, installing paving slabs and strimming lawn and hedges at the Bandroom Garden. The latter is the reason that there's a bit of a shortage of photos this time! We've now installed slabs in front of all 3 Boules Court benches and we think it's made a huge improvement. Next up is the Skatepark benches.
The main Circle Bed is being prepared for the commemoration of 100 years of votes for women and we're hoping for a great display of green, purple and white in a few weeks time.
As well as looking after Marple Memorial Park, the group also takes care of the Lock 17 Flowerbed on Oldknow Gardens. As we're low on pictures this time we've included one from recent work there to fill the gap.
As usual park visitors kindly placed around £12 in our collection bucket, despite our A-Board material getting blown away in the wind wistling through the park.
Task Day 12 May 2018
Thanks to a huge donation of plants by Marple residents Les and Jean White, who have done this in previous years too, most of our volunteers were engaged with planting and weeding in the Memorial beds and the main flower beds today. We'd like to thank Les and Jean for their wonderful support of our Community Park!
Other tasks included strimming the grass around the new goalposts we installed last year and installing paving slabs in front of another Boules Court bench. The ground in front of these benches has been eroding badly, so the slabs should make a big improvement. No actions shots from this task but a couple of volunteers were caught sitting down on the job!
We planted up the new bed near the Bowling Green too and we're looking forward to the clematis climbing the fence.
We gave away lots of free plastic pots that have been left over but of course many people who took them made donations and almost £20 plus several Euros were kindly added to our bucket by park visitors.
Task Day and Treasure Hunt 28 April 2018
Today the park hosted the fourth Annual Treasure Hunt organised in partnership with local estate agent Julian Wadden. The weather held and it was great to see so many children and families enjoying the park again.
Task day volunteers...
Sadly we had to pick up loads of dog mess from around the flowerbeds and the area where we were putting the Treasure Hunt gazebos before we could get started but the rest of the day was very positive.
Volunteers were busy edging and weeding the flowerbeds, dead-heading daffodils and improving the Band Room garden by mulching the borders with wood-chippings. We also started the annual treatment of benches and installed paving slabs in front of one of the Boules Court benches to combat the heavy wear that the ground in front of these benches is seeing. There are several more to do and we were pleased to obtain recycled slabs via the council for this work.
We also had a team next to the Treasure Hunt gazebo doing the last day of our Little Growers scheme. This is where children can plant seeds in a bio-degradable cup, take them home to nurture and grow, and then we hope the will bring them back to plant in the park during the summer. We've actually had one pot back from the March plantings already!
4th Family Treasure Hunt organised by Julian Wadden
The fourth Family Treasure Hunt ran from 11am to 2pm and was aimed at 3 to 10 year olds with parents, grandparents or carers assisting as needed. There were two sets of clues, one for ages 3-5 years and the other for 6-10 years. Children hunted for clues to answer questions that would reveal the information needed to open the Treasure Chest for a share of the booty. Everyone who completed the hunt took away a fist full of chocolate gold pieces!
The Treasure Hunt was really well supported thanks mainly to the hard work of volunteer Di Jackson.
It was a FREE EVENT but there were collection buckets for donations and some fabulous raffle prizes donated by local businesses. The event programme was sponsored by local businesses too.
The event today raised a grand total of £2,154 for the park.
This was made up of £139 donations on the day, £308 raffle takings, £1,657 of sponsorship and £50+ donated via Local Giving. This means that with the Council's Commuted Sums of £1,702 we now have £3,856 towards the replacement of the old Springers in the Infants Play Area.  We need a minimum of £5,000 and ideally around £2K more than that. So we've a way to go yet and we'll be looking at other ways to boost the funding.
In the meantime, if you'd like to contribute you can still donate with Gift-Aid (if you are a UK Tax Payer) via our Local Giving Appeal: https://localgiving.org/appeal/marple-play-area/
Friends of the Park would like to say a huge thank you to Julian Wadden Estate Agents for organising this event with us and the following local businesses for their fantastic support:
Business Sponsors:
Mega £250 Sponsor: DJS Research.
Banner Sponsors: Brian Sharples & Sons, Hawk Green Cricket Club, Marple & District Electrical, Marple Health Shop, Ridings Opticians, Vernon Building Society.
£50 Premier Sponsors: Angkor Soul, Bloom Hearing Specialists, Brabyns Preparatory School, Byles Kitchens, Marple Local History Society, Marple News, Marple Physio, Roger Fisher Opticians, Shop Local Club Card, The Marple Website, Whittakers Fish Bar.
£30 Regular Sponsors: A.C.M. Financial Services, Brian Sharples & Sons, Hatters Arms, Imperium Personal Fitness Training, Inkbox of Marple, John Oldham Plastering, Kathy's Caterpillars Childcare, Little Button Bakery, LSA Technology, Malcolm Shaw & Son Ltd, Marple & District Electrical, Marple Drama, Marple SPAR at Rose Hill, Rhodes & Partners, Room Eighty Five, S Duddy Roofing Contractors & Merchants, Trek & Travel.
£25 Sponsor: The Springfield Hotel.
Raffle Prize Donors: All Things Nice, Benji's Pet Food & Accessories, Chocabean Chocolate Creations, Chocolate Collective, Comix and Kollectables, Dress-Ability, Life Leisure / Target Fitness Marple, LSA Technology, Magpie Cottages & Spa, Marple Co-Op, Marple Golf Club, Nitrotek Ltd, Roger Fisher Opticians, Rope Race Climbing Centre, Semitone Studios, Strines Cafe, The Bookshop (Marple) Ltd, The Hound Dog Grooming Spa, The Navigation Lock 13, The Ring o' Bells Public House, Vernon Building Society, Whittaker's Fish Bar.
Thank you to everyone for supporting your local community park!