Task Days 2019
Here are details of our task days in 2019.
Task Day 28 December 2019
We were blessed with a beautiful day to blow out the Christmas cobwebs on our last task day of the year. In 2019 we have worked over 1,000 volunteer hours in the park! Today we cut-back overgrown shrubs behind the Infants Play Area, tidied the War Memorial Beds, continued crown-lifting of low branches on trees and cleared leaves around the Bowling Green too.
It was great to see our request to replace the missing drum sticks on the Pirate Ship has been fulfilled by the council too.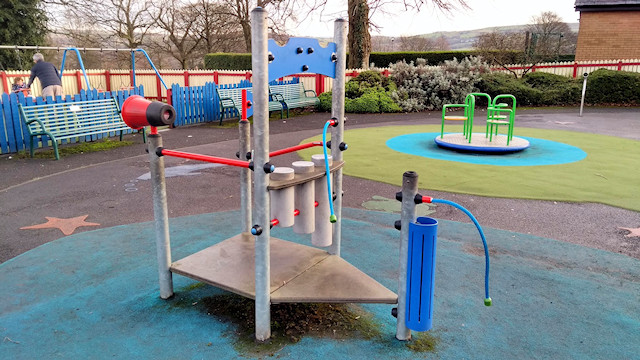 Can you support Friends of Marple Memorial Park via their 50-50 Club?
To generate a regular income to help fund projects in the park, this year we set-up a new 50-50 Club. This enables Friends of the Park supporters to make a regular monthly donation of £5 or more and be in with a chance of winning a cash prize each month too. So far, after only 3 draws, we've given away £466 in prizes and raised a similar amount for the park. If you'd like to support the park in this way, please sign-up to the Friends of Marple Memorial Park's 50-50 Club!