Welcome from Friends of Marple Memorial Park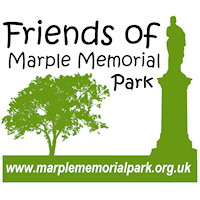 "Friends of Memorial Park" are a group of local people whose aim is to provide opportunities for community members to improve and promote the use, awareness and care of facilities within Marple Memorial Park in order to make the park a welcoming, safe and enjoyable environment for all. To better understand our aims and objectives take a look at our Constitution. To discover more about our recent activities browse our minutes of meetings and Task Day galleries and to learn more about our projects and successes, use the links at the top of this page. If you'd like to get involved and support our efforts in any way please come along to one of our task days or meetings, or get in touch using the contact details on this site.
100th Birthday Treasure Hunt in Marple Memorial Park:
Saturday 23 July 2022 between 10am and 2pm
The 6th Family Treasure Hunt in Marple Memorial Park
Following a 2 year gap Friends of the Park are relaunching their Family Treasure Hunt to celebrate and commemorate 100 years since the park was dedicated to the community.
The Treasure Hunt is aimed at 3 to 11 year-olds with parents, grandparents or carers to assist as needed.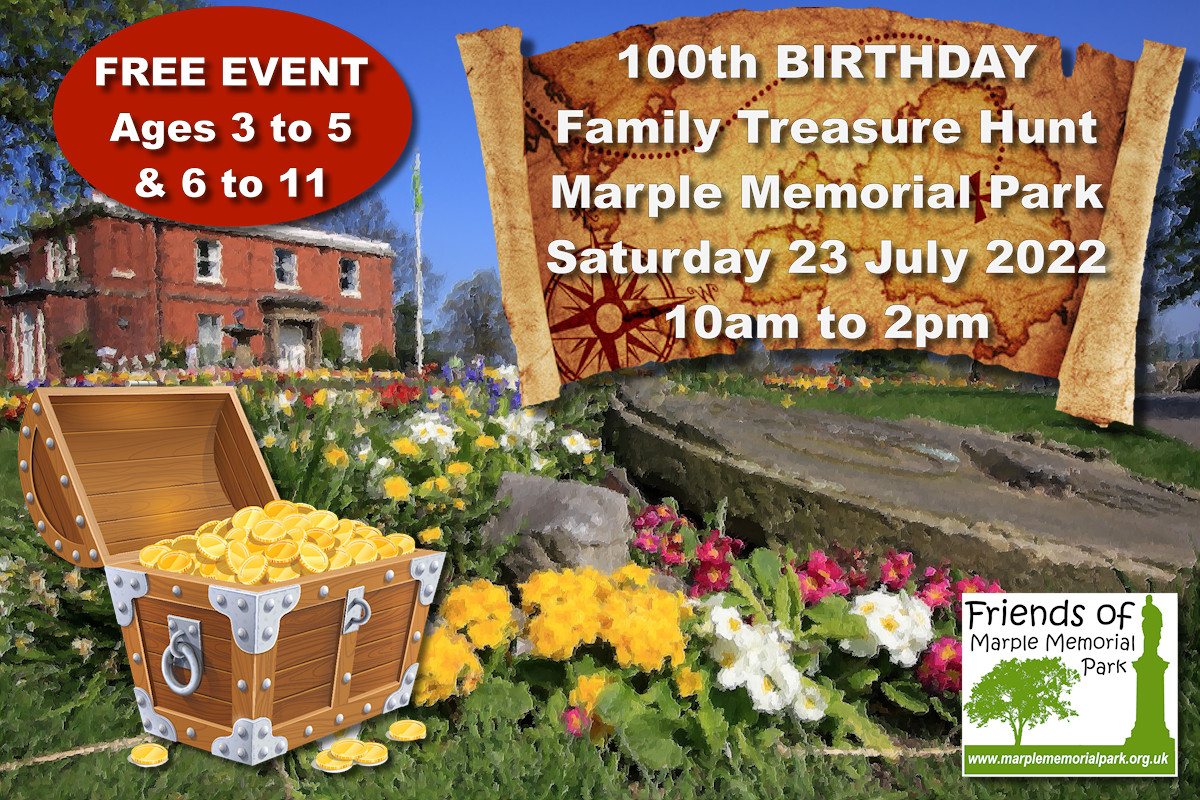 Hunt for clues and answer questions to reveal the information that will open the Treasure Chest for a share of the prize. There are two sets of clues aimed at ages 3-5 years and 6-11 years. The hunt should take around 20 to 30 minutes and you can start at any time between 10am and 2pm.
We will again be joined by Sarah and her Coffee Bean Dream van, which will provide visitors to the park with refreshments. We are also planning some extra attractions that have proved popular before, including Face Painting, a Cake Sale and others we will announce when confirmed.
This is a FREE EVENT but there will be a collection bucket for donations to Friends of Marple Memorial Park. The event is organised by Friends of Marple Memorial Park and has a great track record of being sponsored and supported by local businesses and organisations.
Brass Bands of MARPLE: 100th Birthday Picnic in the Park:
Sunday 24 July 2022 between 2pm and 4pm
The Marple Band and Hawk Green Band will be helping the community celebrate the 100th anniversary of the dedication of Marple Memorial Park on Sunday 24 July between 2pm and 4pm.
The event will be similar to the very successful 2018 concert in the park, which was blessed with glorious weather as you can see in the poster image below. We hope this event celebrating the park's centenary will have the benefit of the sunshine too but the Senior Citizens' Hall is booked just in case the British summer doesn't play ball.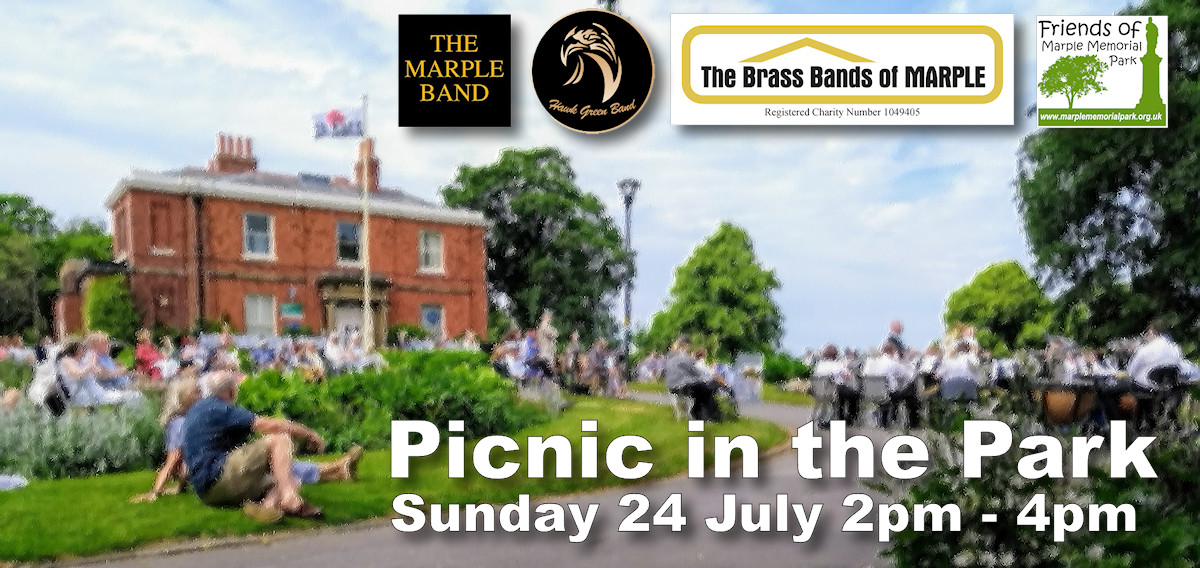 Commemorating the Dedication of Marple Memorial Park on 22 July 1922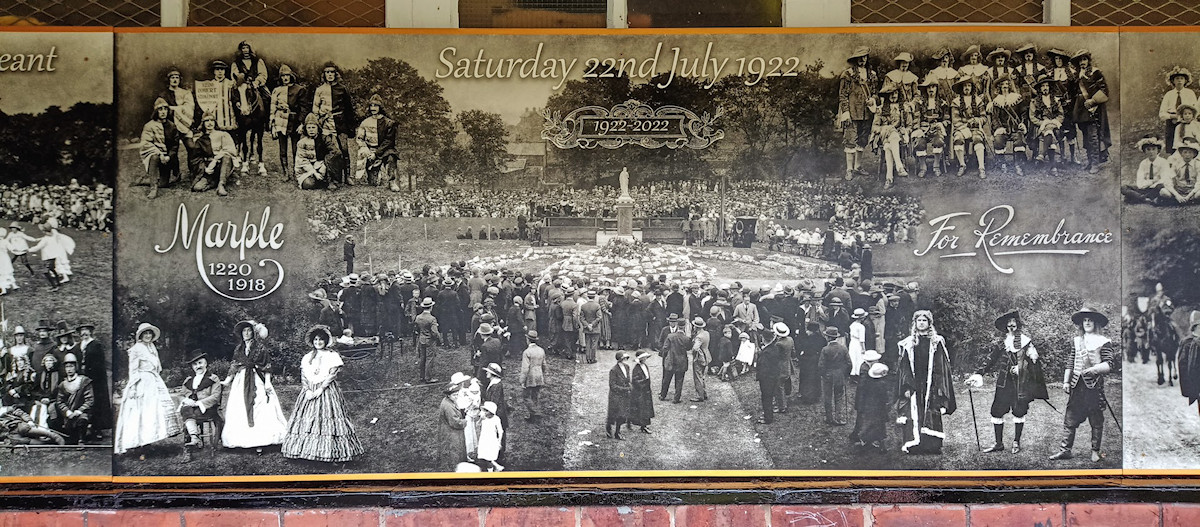 The artwork is now installed and can be viewed in close-up during Marple Carnival on 18 June 2022 and Friends of the Park Task Days.
Celebrating the Park's importance to our Community
Two local Primary Schools, All Saints' Marple and St. Mary's in Marple Bridge, have agreed to design and build a school garden in Marple Memorial Park as part of the commemorations of the 100th Anniversary of the park being dedicated to the local community.

This exciting new project, funded by a "Magic Little Grant" from Localgiving and Postcode Neighbourhood Trust and an Environmental Challenge Award from Stockport Hydro, presents schools and pupils with an opportunity to gain invaluable, hands-on experience in the horticultural and gardening world. It's intended that the project will make a difference in Marple, bringing the community together after the devastating impact of the COVID pandemic and create a legacy for future projects involving more local schools.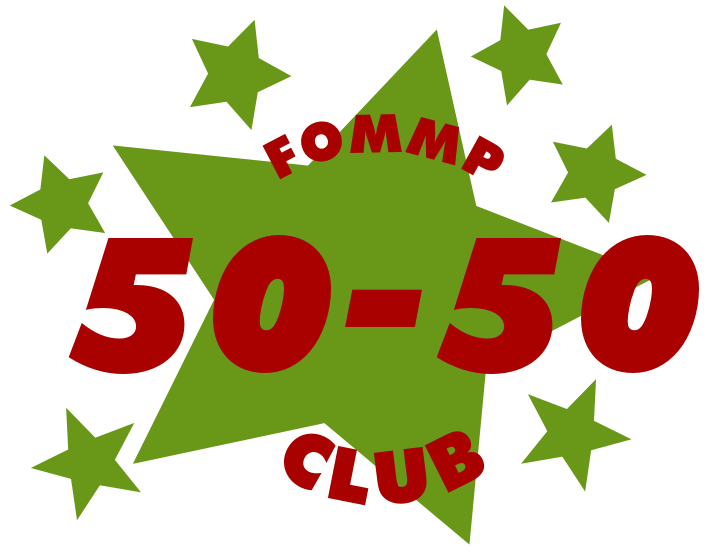 Support what we do...
Friends of Memorial Park's 50-50 Club latest Draw Winners
The latest draw of the Friends of Marple Memorial Park 50-50 Club has been made and the lucky winners announced.
To date £6,940 has been awarded in prizes and a similar amount allocated to Park Funds, so this is a great way to support the volunteers who look after our wonderful park.
Subscribe before the end of the month!
There is still time to subscribe before the next draw deadline at the end of the month, so please read more about how you can support the Friends of the Park and be in with a chance to win a cash prize each month too!