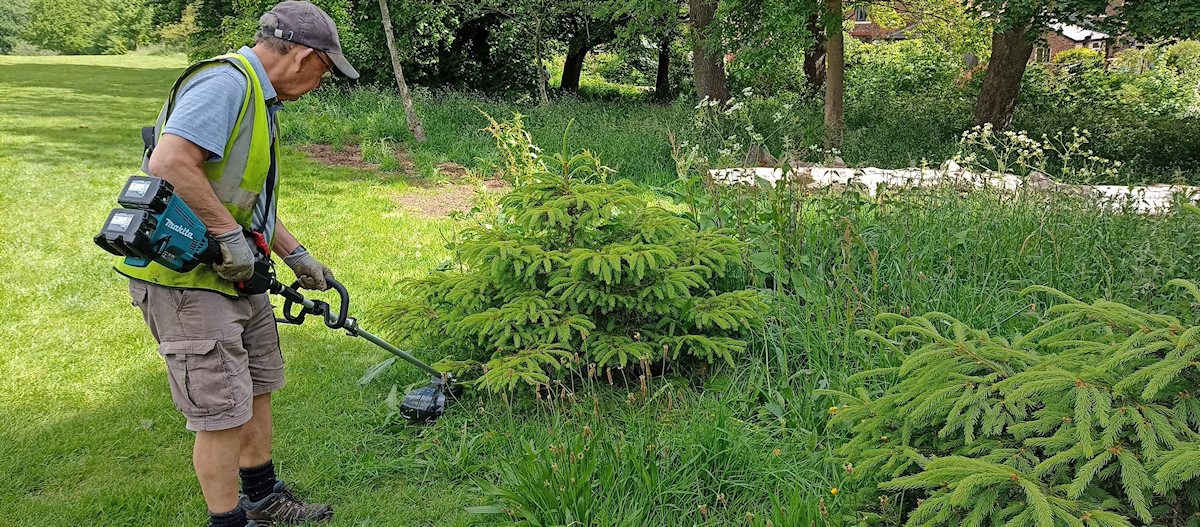 Stockport CAN Fund helps volunteers go "Green"
Climate Action Now Award enables petrol gardening tools replacement
In May 2022 Friends of Memorial Park were awarded £1,550 by the Stockport CAN (Climate Action Now) Fund to replace existing petrol driven gardening equipment with cordless battery powered items. The award enabled us to purchase a cordless lawnmower, a strimmer, long reach hedge-cutters and standard hedge-cutters plus the batteries and charger needed to run them. It also meant that we could scrap our old petrol driven equipment and remove our dependency on petrol completely.
Friends of Marple Memorial Park are delighted to be the first "Upper Tier" project to have our idea supported by the Stockport CAN Fund. Our award will enable us to replace all our petrol driven gardening equipment with cleaner and greener cordless rechargeable items and remove our dependence on petrol completely. Thank you to the Stockport CAN Fund and Marple Councillors for supporting our bid!
New tools purchased and in use
We used the new lawnmower in the Band Room garden and tested out the strimmer during our Task Day on 28 May 2022. We will be able to test the hedge-cutters properly once the bird-nesting season is finished. Here's an image of our old equipment ready for collection by the scrap man and the first photos of some of our new equipment in action.
Can Stockport CAN Fund help you?
Friends of the Park would encourage other local groups and organisations to think hard about how they can access this funding too.
https://www.stockport.gov.uk/stockport-climate-action-now-can-fund