Marple Stationery Supplies
Sarah Laker at Marple Stationery Supplies has been a regular supporter of Friends of the Park for as many years as we can remember. From help with our printing to sponsoring trophies at our Skatepark Event, from supporting our Treasure Hunts, to donating tombola prizes at Carnivals and Food Festivals.
Sarah was also a big help with our Pavilion Art Project in 2020, giving us a local pick-up point during lock-down for artists to collect templates and to drop-off their designs.
Most recently, Friends of Marple Memorial Park have been fortunate to be the beneficiary of Sarah's charity calender for both 2021 and 2023.
2023 Marple Vintage Calendar raises £450 for Friends of the Park!
For 2023 Sarah decided to do something a little different. With the help of Mark Whittaker of The Marple Website (also Chairman of Friends of the Park and President of Marple Local History Society) and using images from the History Society's Archives and The Marple Website's Virtual History Tour, they created a Vintage Marple Calendar that proved to be hugely popular.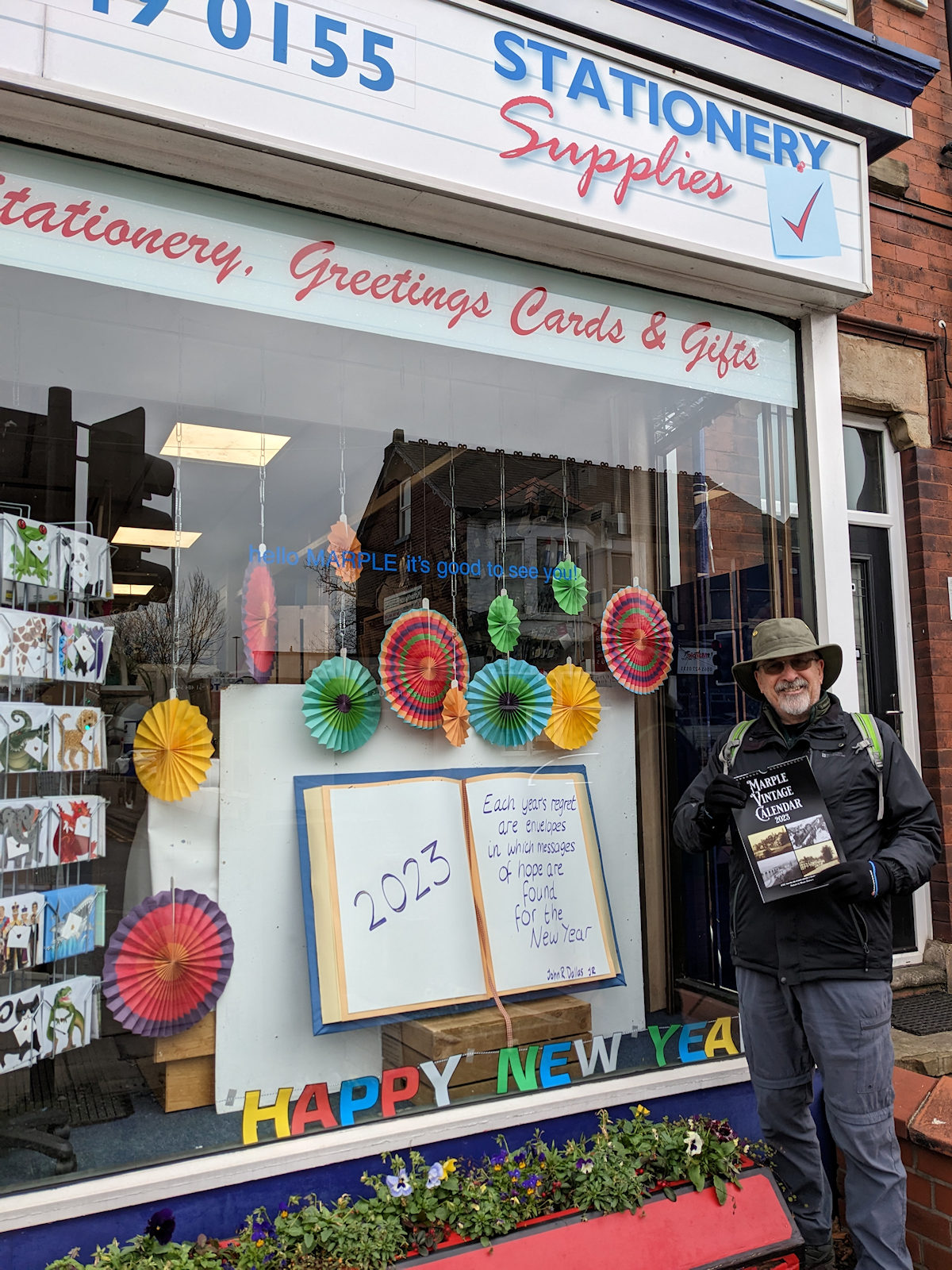 Mark Whittaker with Sarah's 2023 Calendar outside Stationery Supplies
With Sarah donating a fantastic £400 from calendar sales, plus the "photographers fee" of £50 from Mark, it means that the park fund has benefited by the sum of £450 from the 2023 Vintage Marple Calendar published by Stationery Supplies. These funds will be allocated to the group's latest major project to provide Outdoor Exercise Equipment.
Sarah's 2022 Calendar raised £150 for Mellor Country House too, so she's been doing an amazing job of supporting local causes!
2021 Marple Calendar raises £200 for Friends of the Park!
2020 was the third year that Sarah at Stationery Supplies had published her calendar and used the opportunity to support local causes too.
The 2019 and 2020 offerings raised £100 each for Marple Carnival and New Horizons respectively.
Friends of the Park win vote after nomination by customers
In the summer of 2020 Sarah conducted a social media poll after Friends of Memorial Park and Mellor Country House were nominated by her customers. With 62% of the vote going to Friends of the Park, we were selected to benefit from the 2021 calendar sales but it's not all bad news for Mellor Country House, as they will benefit from the 2022 calendar instead.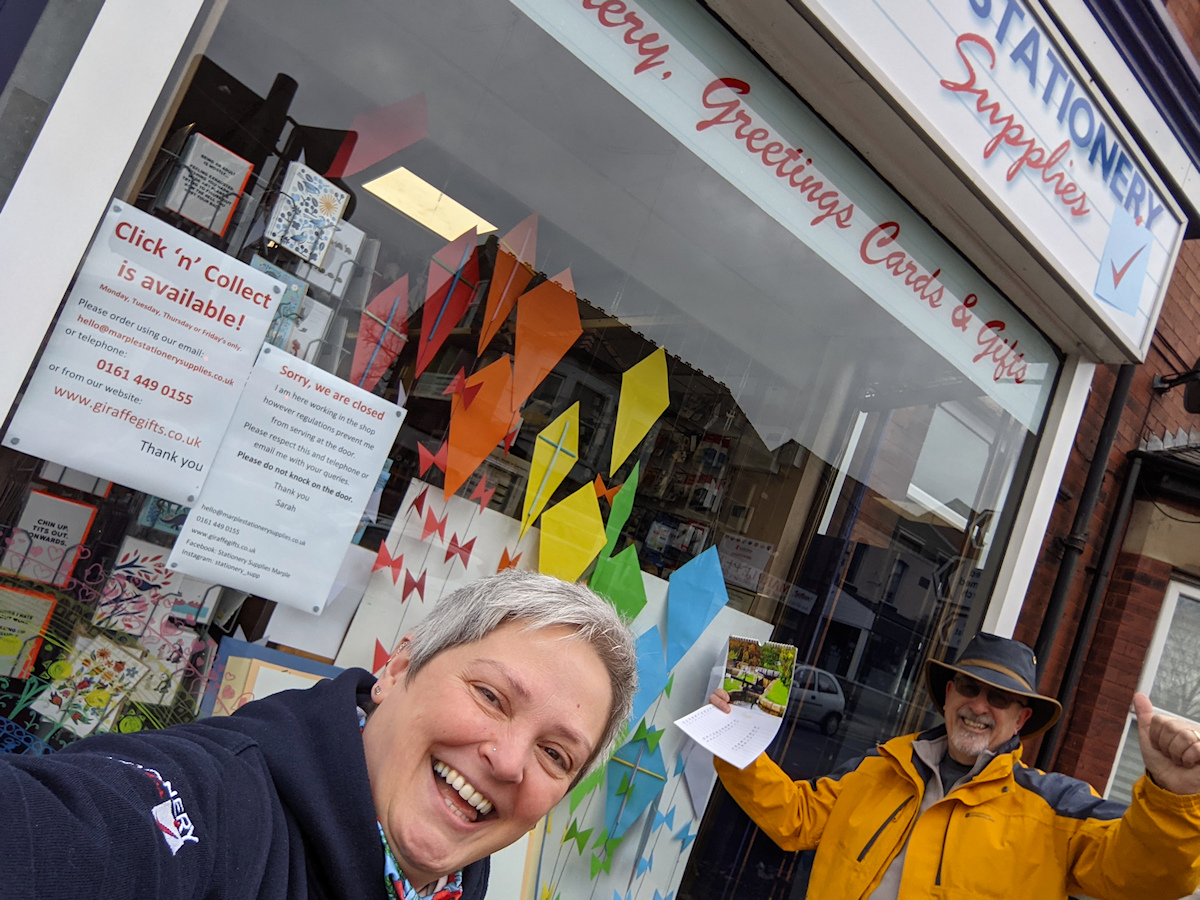 Sarah takes a socially distanced selfie outside her shop with FoMMP Treasurer Mark Whittaker
Thank you to Sarah for donating £150 from the sales of her Marple Canals and Waterways Calendar 2021 and the photographers for donating their £50 fee. Published by Stationery Supplies, with 12 stunning seasonal scenes by Colin Hughes, Mike Thornton and John Varley, the calendar was printed by HB Printing and is a truly a great local initiative.
Stationery Supplies Links:
Online Sales at Giraffe Gifts: https://www.giraffegifts.co.uk/
Stationery Supplies on Facebook: https://www.facebook.com/StationerySuppliesOnline/
Stationery Supplies on Twitter: https://twitter.com/stationery_supp
Stationery Supplies on Instagram: https://www.instagram.com/stationery_supp/