Kärcher cleans Marple Memorial Park!
In June 2013 Friends of Marple Memorial Park won one of three top runners-up prizes in the "Kärcher Cleans Britain 2013" competition.
Kärcher Cleans Britain, now in its third year, is a campaign which aims to encourage Briton's to clean up their streets and the top prize was a visit from Kärcher's Clean-Up Squad led by TV's restoration expert Sarah Beeney. Although Sarah didn't come to Marple we did receive some fantastic prizes including a day-long visit from the huge Kärcher Clean-Up Squad and volunteers from Keep Britain Tidy. Including local volunteers who came along to help, at one point during the morning we had more than 40 people working to clean-up our park. Even Marple's Firefighters came along to support us too!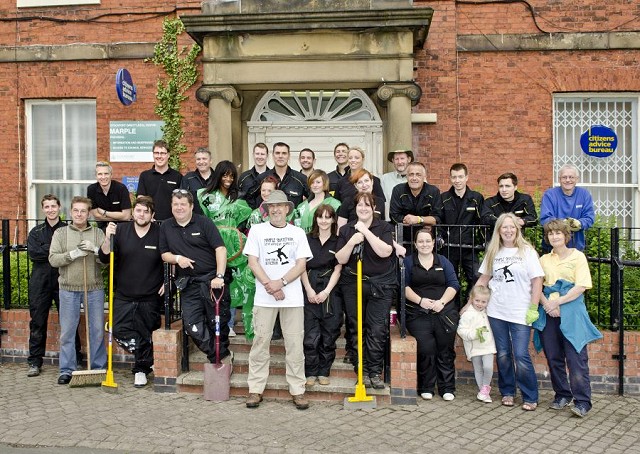 A large part of the day's effort was focused near Marple Library and the paving, pathways and brickwork all the way around the library were given the most comprehensive clean-up that it has probably ever seen. This included removal of weeds and moss followed by jet-washing with the same professional Kärcher equipment recently used to clean the London Eye. Kärcher has been trusted to clean some of the world's most prestigious heritage sites, such as the Statue of Christ in Rio De Janeiro, Mount Rushmore in South Dakota and the Brandenburg Gate in Berlin, so we were more than happy for them to also clean-up our sculpture in the Breathing Places Area and Jim Heald's commemorative bench nearby.
While Kärcher's team of professional cleaners and volunteers from their regional offices concentrated their efforts on the hard landscaping around the library, Keep Britain Tidy and local volunteers turned their attention to the Infants Play Area and trimmed hedges, removed weeds, cleared drains and had a thoroughly good sweep-up while Bob cut the grass.
After photo-calls and lunch, Kärcher spread their efforts further into the park and cleaned up the cobbles and ramps in front of the Council Offices, the stonework around the War Memorial and the small War memorial monument too. They also cleaned the entrance road down as far as the Senior Citizens' Hall before giving the Senior Citizens' back yard a thorough scraping and sweeping to remove the heavy growth of moss that had built up over many years.
The weather turned to rain in the afternoon, which hampered progress a little and time ran out before the Co-Op steps and ramp could be cleaned as we'd hoped. However, Kärcher did still manage to send a small team to the Recreation Ground and give the old stone drinking fountain a clean, so we certainly can't complain about how much they did for us in a very busy day.
Our competition entry was a photo of volunteers treating our tree sculpture with the caption: "The Friends of Marple Memorial Park have been working hard for the last 10 years to clean and improve our local park. A professional clean-up from Karcher would give us a HUGE BOOST!" and Kärcher's Clean-Up Squad has certainly done that for us today!
In addition to the Clean Up Day Friends of the Park have also won a "Kärcher Clean-Up Kit", comprising a top of the range Kärcher Jet Wash, a Kärcher Steam Cleaner and a Kärcher Window Vac with a total recommended retail value of around £700 - so it will be much easier for us to keep the park sparkling clean in the future!
Photos by Arthur M Procter, Kärcher and Mark Whittaker