New home in the park for giant Marple Frogs
On Saturday 12 February 2022 Friends of the Park were pleased to install Canal Frog Rose and baby Bud in Marple Memorial Park. The frogs' new home is in the Reading Circle behind the library, where they take the place of the original wooden sculpture that we had to remove in 2021 due to decay.
They certainly look right at home and fit in so well that the area could have been designed for them. The Reading Circle was originally created by Friends of the Park in 2007/8 and was funded by a BBC Breathing Places Grant. We're delighted that Rose and Bud will give this area a new lease of life so many years later.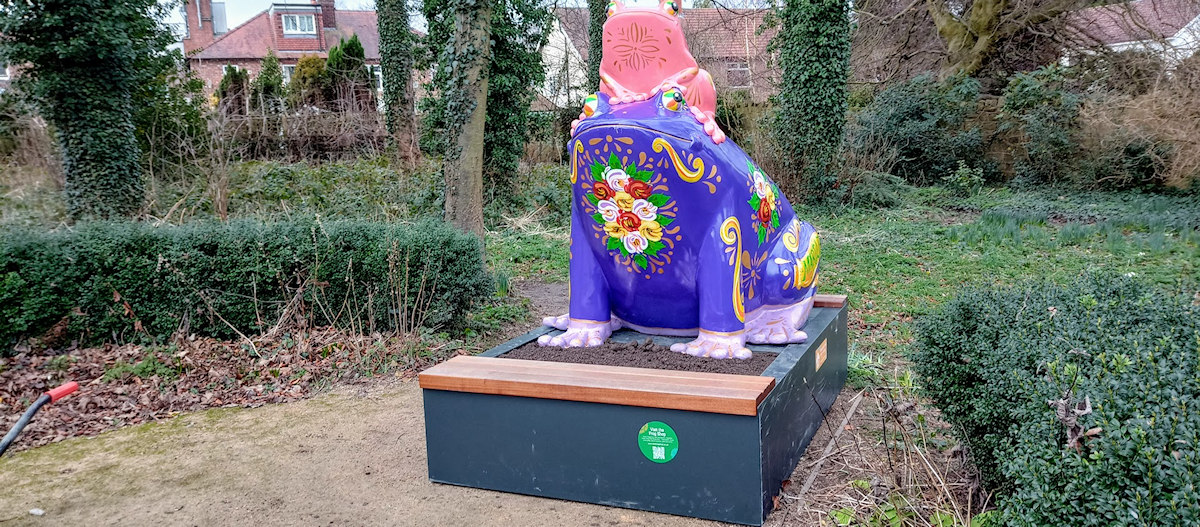 50-50 Club funds Marple Frog return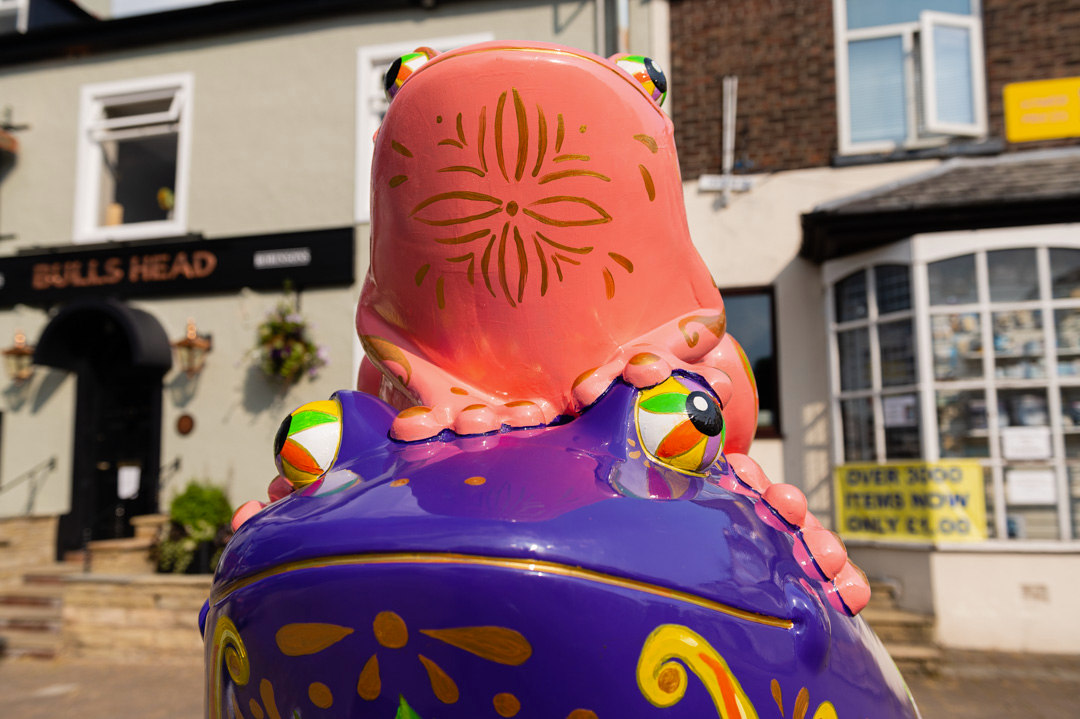 Over the summer of 2021 around 40 independent local traders joined forces to raise the fee to bring a giant painted frog sculpture to Marple. Christened "Rose" by the Marple M'Indies (pictured below) who paid for her short stay in the town centre, the canal-themed frog was part of the "Giant Leap Frog Art Trail" organised by One Stockport across the borough.
Rose was popular with local people while displayed on Market Street between 24 July and 25 September, especially younger children who loved doing the Frog Trail organised by the M'Indies. However, despite the large fee of £2,400 paid by the traders, it was not a permanent arrangement and Rose was taken away in early October.

One Stockport then invited community groups and organisations to express an interest in purchasing a frog for a donation of £750 to St. Anne's Hospice before any left over were put up for auction to the highest bidders. Friends of the Park spotted this offer and expressed our interest in bringing Rose back to Marple and giving her a new home in the park. We were fortunate to have sufficient funds to do this available thanks to our 50-50 Club scheme and we were enthused that the fee would be going to an important local charity like St. Anne's Hospice too.
Our expression of interest, which was supported by the M'Indies, was successful and arrangements were then finalised to bring Rose and Bud back to Marple to live in the park.
We took delivery of the frogs in November 2021 and then put Rose and Bud into storage until we could organise installation early in 2022.
Funded by Friends of Marple Memorial Park 50-50 Club
Friends of the Park were able to make this bid to bring Rose back to Marple thanks to the income generated by the subscribers to our 50-50 Club.
If you would like to help us do even more in your community park please consider signing up to our 50-50 Club here.
Photos courtesy of Helen Roscoe www.roscoerutter.com and Marple M'Indies www.marpleindies.co.uk