100th Birthday Treasure Hunt in Marple Memorial Park:
Saturday 23 July 2022 between 10am and 2pm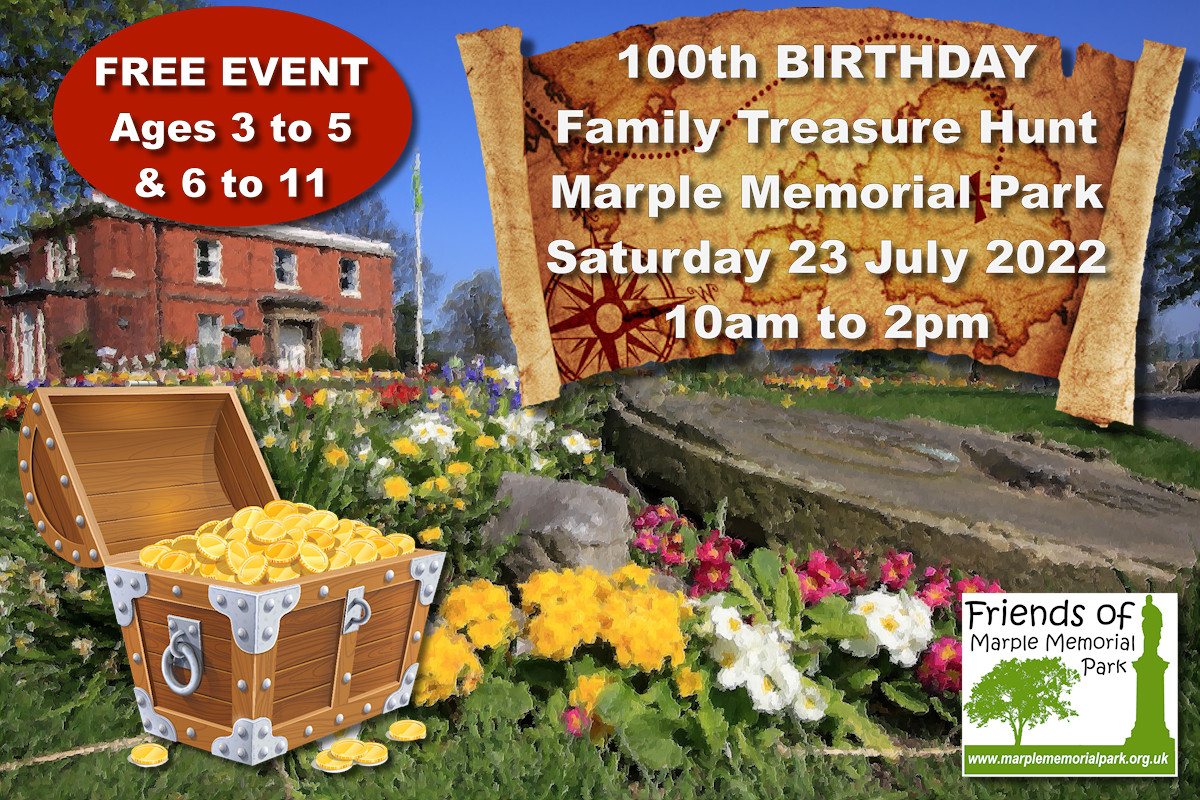 The 6th Family Treasure Hunt in Marple Memorial Park
Following a 2 year gap Friends of the Park are relaunching their Family Treasure Hunt to celebrate and commemorate 100 years since the park was dedicated to the community.
The Treasure Hunt is aimed at 3 to 11 year-olds with parents, grandparents or carers to assist as needed.
Hunt for clues and answer questions to reveal the information that will open the Treasure Chest for a share of the prize. There are two sets of clues aimed at ages 3-5 years and 6-11 years. The hunt should take around 20 to 30 minutes and you can start at any time between 10am and 2pm.
We will again be joined by Sarah and her Coffee Bean Dream van, which will provide visitors to the park with refreshments. We are also planning some extra attractions that have proved popular before, including Face Painting, a Cake Sale and others we will announce when confirmed.
This is a FREE EVENT but there will be a collection bucket for donations to Friends of Marple Memorial Park. The event is organised by Friends of Marple Memorial Park and has a great track record of being sponsored and supported by local businesses and organisations.
There are five opportunities for local businesses to support the Treasure Hunt:
REGULAR SPONSORSHIP £30: with a mention in the programme and promotion on the Marple Website and social media.
PREMIER SPONSORSHIP £50: with placement of logo in the programme plus promotion on the Marple Website and social media.
FACE PAINTING SPONSOR: The cost of a professional Face Painter to attend the event is £130. You can sponsor this in full or make a contribution towards it. Your support will be mentioned in the programme and promoted on the Marple Website and social media.
MEGA SPONSORSHIP £100+: in the past we've had some very generous sponsors, so we've created this category for anyone that would like to give us extra support, including support in kind. With prime placement of logo in the programme plus promotion on the Marple Website and social media, please talk to us about becoming a MEGA SPONSOR!
DONATE A RAFFLE PRIZE: Any local business is welcome to donate a raffle prize. Please phone Diane Jackson (427 5388) or email This email address is being protected from spambots. You need JavaScript enabled to view it. to arrange collection. We hope to arrange a drop-off point too and will advise when this is set-up.
In fact there is a 6th way too, as you could also bake us a cake!
Please contact Diane Jackson on 0161 427 5388 or email

This email address is being protected from spambots. You need JavaScript enabled to view it.

to find out how you can get involved.

 
Previous Treasure Hunts have raised a total of £7,644 for the park!
Friends of Marple Memorial Park have been helping the council to look after our fabulous local park since 2003 and the group continues to raise funds for some exciting new and future projects in the park to benefit the whole Marple community, as well as visitors to the park. The last Treasure Hunt in 2019 raised £2,807 towards various projects in the park.
This year funds raised will go towards Outdoor Exercise Equipment in the park.
We have tried several times in the past to bid for funding to pay for Outdoor Exercise Equipment but were unsuccessful. For a long time since then we were focused on the Skatepark Project Phase I and II and our aspirations for Exercise Equipment were placed on the back-burner.
As we all work our way out of the pandemic we've decided that we will now focus on Outdoor Exercise Equipment as our next major project in the park.
We have already been able to ring-fence £10,000 of our own funding towards this (much of it raised by our 50-50 Club during the pandemic) and we have talked to Stockport Council about a contribution and are awaiting the outcome of those discussions. We need around £20,000 to £25,000 for a good range of suitable equipment and we hope that this year's Treasure Hunt can give us a great boost toward these aims too.
Thank you to our sponsors of the 2022 Treasure Hunt so far:
£130 FACE PAINTING SPONSOR
Hawk Green Cricket Club has sponsored the full £130 towards Face Painting: https://www.hawkgreencc.com/

£30 REGULAR SPONSORS
ACM Financial Services Ltd: http://www.acmfinancialservices.co.uk/