Dedication of Marple War Memorial & Historical Pageant
Marple War Memorial Park was given to the Marple community during a day-long Dedication Ceremony and Historical Pageant on Saturday 22nd July 1922.
100 years later the park remains at the very heart of the Marple community and continues to benefit the health and well-being of local people, exactly as envisaged by the Carver and Barlow families when they donated the land in memory of their three lost sons and the other men of Marple who fell during the Great War; 1914 to 1918.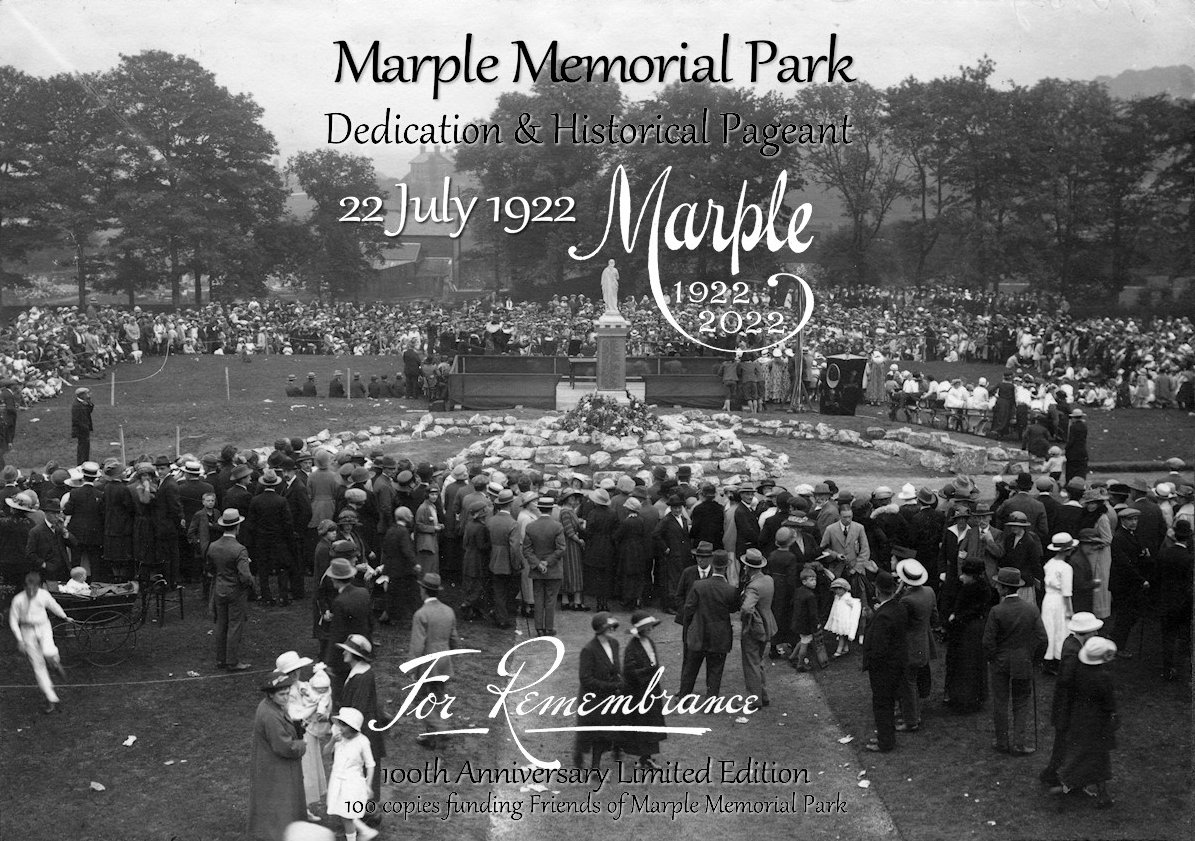 Commemorative Booklet
A limited edition booklet (100 copies) has been created to commemorate the 100th anniversary of the park
Of all the speeches made on the day, only that of Oswald Carver when he handed over the deeds has been found on record and is reproduced in the booklet. What does remain today are occasional copies of the extensive programme of proceedings plus some very good quality photographs taken on the day by photographer W. V. Garner of Marple Bridge.
The most amazing thing about the programme is that it names many of the people who took part in the historical pageant. That names can often be linked to the photographs using the group numbers and costumes adds a fascinating new dimension to this archive material.
It was realisation of this link that led to the idea of recreating the programme for a new audience and incorporating the photographs alongside too. We hope that Marple folk with deep local roots may spot relatives and be able to help link more names to faces, expanding the details available to us now with knowledge that would otherwise be forgotten.
The booklet was compiled from archive material by Mark Whittaker of Friends of Marple Memorial Park and The Marple Website, with the help and support of Marple Local History Society, in order to commemorate the 100th anniversary of the Park on 22 July 2022. Printing was funded by The Marple Website.
The booklet has so far raised £440 for the Park Fund
Only 9 more copies are available!
The booklet is 32 pages of A4 on high quality silk paper and costs only £5 with all proceeds going to Friends of Marple Memorial Park. P&P costs are £2.50 within the UK. If you are interested in purchasing a copy please get in touch with Mark via email This email address is being protected from spambots. You need JavaScript enabled to view it. or phone 0161 427 4955.

Visit the 24' long mural in Marple Memorial Park
The booklet compliments and was inspired by the 24' long mural installed on the former Bowling Pavilion in the park that was created for us by Art Stop CIC using the photographs taken by W. V. Garner on 22 July 1922 to commemorate 100 years since the Dedication & Historical Pageant. Visit our Pavilion Art Project Phase II page to lean more.