Celebrating the Park's importance to our Community
Two local Primary Schools, All Saints' Marple and St. Mary's in Marple Bridge, have agreed to design and build a school garden in Marple Memorial Park as part of the commemorations of the 100th Anniversary of the park being dedicated to the local community.

This exciting new project, funded by a "Magic Little Grant" from Localgiving and Postcode Neighbourhood Trust and an Environmental Challenge Award from Stockport Hydro, presents schools and pupils with an opportunity to gain invaluable, hands-on experience in the horticultural and gardening world. It's intended that the project will make a difference in Marple, bringing the community together after the devastating impact of the COVID pandemic and create a legacy for future projects involving more local schools.
The mental health and well-being benefits of connecting with nature are well known
The project will encourage children to spend time outside away from screens and learn how to create gardens that are environmentally friendly and beneficial to native wildlife. It is hoped that the gardens will also encourage those experiencing social isolation and loneliness to visit the gardens and spend more time in the local community.
The theme for the project will be "The Park's importance to our Community over the last 100 Years". It is hoped that the designs will encapsulate what the park means to our local community, not only in the past but in the present and the future too.
The gardens will be displayed in the park between the months of June, July and August 2022 and will be dismantled and removed during the early part of September 2022.
The location near to the play areas and the library chosen for the gardens will enable this project to link in with other projects and events planned for the Park's 100th anniversary.
Mrs Bradbury from St. Mary's School said:
St Mary's Catholic Voluntary Academy are delighted to be involved in Marple park's 100 year celebrations. The design a garden competition immediately captured our attention having previously entered the Tatton school's garden competition and enjoyed the community spirit and passion throughout the school which was generated throughout the project. We have launched the garden design competition in our school and have been overwhelmed by the entries. All entries have elements which will be used in our final garden design. Our gardening sessions promote the well being of all at St Mary's and we look forward to bringing our final garden project to Marple Park for all to enjoy over the Summer.
This project has been made possible by the following grant funding:
Project infrastructure is funded by a £500 "Magic Little Grant" from Localgiving and Postcode Neighbourhood Trust, a grant-giving charity funded by players of People's Postcode Lottery. Project Infrastructure includes sleepers and fixings, plywood backing boards and timber framing, plus membrane and topsoil.
The £250 planting and art materials budget for each participating school is funded by a £500 grant from Stockport Hydro's 2022 Environmental Challenge.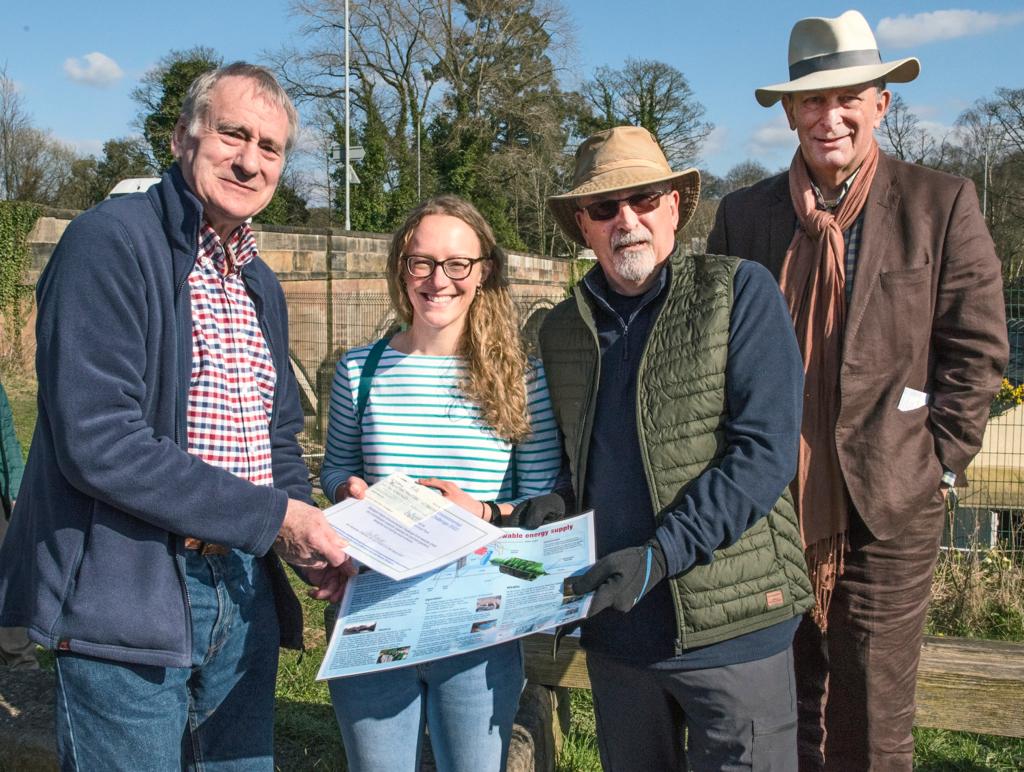 Sarah Braide and Mark Whittaker receive our Stockport Hydro Award from Laurence Jackson and Ben Alexander on 18 March 2022.
30 June 2022: Infrastructure Build Day
The Marple School Gardens Project finally got underway publicly today with the building of the raised beds in the park ready for All Saints' and St. Mary's Schools to plant them up during week commencing 11 July. Today it was assembling the sleepers and filling with soil carried out by Friends of the Park. A big thank you to Andy Manc James, our local Dyno-Rod man who helped deliver the sleepers to the park, and to Offerton Sand and Gravel's driver Neil, who made a precision early morning delivery of topsoil for us to avoid problems in the car park.
30 May 2022: Cheshire Wildlife Trust is supporting Marple School Gardens Project!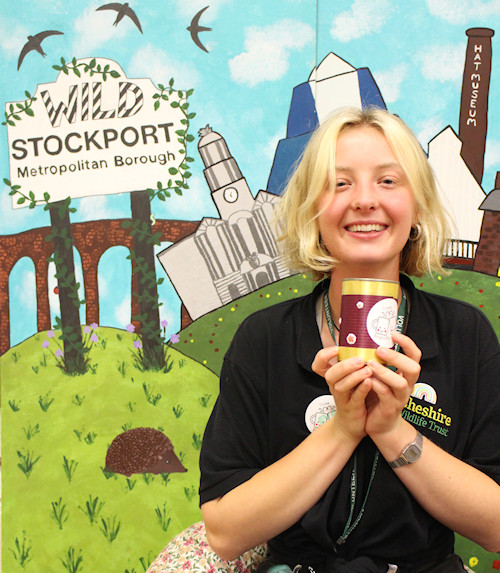 We are delighted that Stockport Rewilding Officer Eve Taylor from the Cheshire Wildlife Trust will be supporting our Marple School Gardens Project. Eve has already visited St. Mary's School and has a date arranged to visit All Saints. She will also be attending the School Build Days, when children from both schools will be planting their beds, and coming to the Family Treasure Hunt in Memorial Park on Saturday 23 July to engage with the local community on Rewilding Stockport. Eve has provided the following introduction:
Hello!
My name is Eve and I work for Cheshire Wildlife Trust on a National Heritage Lottery Funded project called Rewilding Stockport. Made possible by money raised by National Lottery players, the project focuses on creating a community nature reserve within Stockport. Rewilding Stockport is a two-year project and within these 2 years we are looking to create 1,000 spaces for nature across Stockport, an ambitious target which we can't achieve alone!
Rewilding Stockport is about empowering residents to turn Stockport into a community-based nature reserve: a mosaic of 1,000 new spaces for wildlife and people, embedding nature into the fabric of our town. We want communities to use, enjoy, improve, and reclaim local green spaces, so all can make the most of these safe and inclusive wild places close to where they live, work and play. To find out more about Rewilding Stockport, please visit our webpage - Rewilding Stockport | Cheshire Wildlife Trust.
My job role in this project is Stockport Rewilding Officer, and I will be working closely with the people of Stockport in creating pollinator patches, improving Wasted Spaces, and spear-heading our Grow Don't Mow campaign in Stockport. I have a diploma in Animal Management and a first-class degree in Wildlife Conservation and have volunteered my time with several wildlife charities across Europe. This has led me on to intern with Lancashire Wildlife Trust on their peatland restoration work; my first experience working with the Wildlife Trusts! This is when I realised it was the organisation for me. I strongly believe in their strategy that links nature recovery and connection to human well-being. Having grown up in Stockport, I feel very passionate about the area and want to do as much as I can to create a Wilder Stockport!