Friends of Marple Memorial Park Task Days
The Friends hold regular task days in the park on the last Saturday of each month in the winter and the middle and last Saturday from March to November. Everyone is welcome to join in for as long or as short they wish during the specified times. Please note that children and young people under 18 should be accompanied by a responsible adult. The next task day is: 
TASK DAYS ARE CURRENTLY RESTRICTED AND AT THIS TIME WE ARE NOT RECRUITING NEW VOLUNTEERS. IF YOU ARE AN EXISTING VOLUNTEER PLEASE CHECK EMAILS FOR MORE INFO.
We like to keep a record of what we get up and here are details of past task days.
Getting ready for the Ride of Remembrance
Text
At last we're allowed back in our Mess Room!
The refurbishment of our Mess Room (shared with council operatives) was completed just before the March 2020 lockdown began but we've been unable to use it since then. After conducting a deep clean yesterday afternoon, during this task day we finally managed to fit the new paper towel dispenser and microwave brackets we purchased before the pandemic kicked off. As the room is quite small we used it to brew-up but took our refreshments outside.
Other work included finishing the black paintwork around around Marple Library, litter-picking and the never-ending battle to keep the flowerbeds looking their best. This time we also planted a couple of shrubs donated by a Marple resident and we look forward to seeing how they develop next spring.
Honesty Seeds for Sale
As a little fund-raiser we also sold packs of White Honesty seeds to raise funds for the park. This was inspired by so many people asking us for the name of the plants giving the amazing display of white flowers in the flowerbeds during May and June this year (see below). Along with donations, we raised over £27 for the park.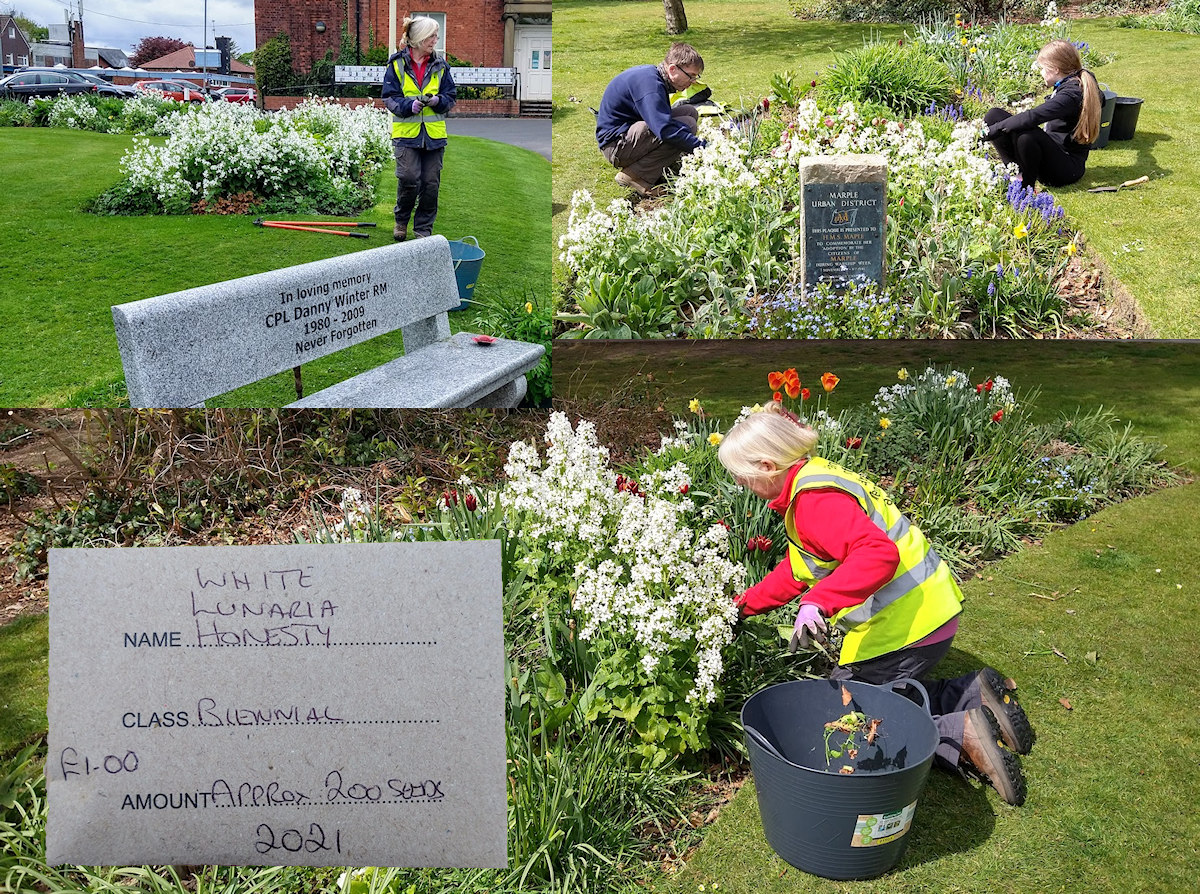 Town Centre Benches all caught up in time for Food and Drink Festival
We were delighted the weather held yesterday, allowing us to complete re-treatment of the last two benches on Market Street this year. That means we have caught-up with the lost year due to the Covid19 pandemic and all 17 Town Centre Benches have been re-treated by Friends of the Park in time for the 2021 Food and Drink Festival.
Next year we would still like to clean up and repaint the metalwork too and it would be easier if we had access to an outside tap. Is there an owner of a business premises or residence in the Market Street area that could help us with this please?
Town Centre Benches on the Hollins completed for 2021
The last two benches on the Hollins were sanded and treated on Monday and we've nearly caught up after Covid delays in 2020.
Just two benches left on Market Street, which we hope to manage before the Food and Drink Festival on Saturday if the weather and other commitments allow.
One nice coincidence we learned is that it was the late Marshall Shaw's birthday on the same day we treated his bench.
Lovely to see so many families enjoying a glorious day in the park!
As well as the usual hard work to keep on top of the main flowerbeds as they start to turn, a long overdue session on the second car park shrub bed was tackled. There's a lot more work here for us this winter it seems! A great job was also done on dressing the edges of the pathway between the war memorial and Hollins House.
Our man with a paint brush was on the prowl too, and anything needing a black paint touch-up was dealt with efficiently.
Just over £12 was added to our collection box by park users - thank you!
A busy day in the sunshine for Friends of the Park!
A beautiful day to be working in the park saw a focus on hedges and shrubs, with work around Hollins House, the war memorial beds and the Bandroom garden. Other jobs tackled included cleaning display boards, touch-up painting of the railings in front of the house, much needed watering of Danny Winter's pots and the endless task of keeping the flowerbeds at their best.
We also met with a local lady who has some exciting ideas for a new project in the park and visitors rewarded us with donations totalling over £13 in our collection bucket.