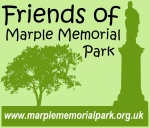 Monthly Meetings
The Friends of the Park hold their meetings on the second Monday of the month in Marple Library. Meetings are generally monthly or bi-monthly depending on how busy we are and how much there is to discuss. Once a year we hold an Annual General Meeting to deal with the formal requirements of our constitution. Our next meeting is scheduled for:
Next Meeting Marple Library TBA 2020 6.15pm.
Friends of Marple Memorial Park - Minutes of Meetings
The minutes of all our meetings are available to download as pdf files using the links below. Please note that in order view the files you will need to have Adobe Acrobat Reader software installed on your computer. This is a free package and most PC's have it installed - if yours doesn't, you can download the software by clicking on the box below.

Minutes of Meeting to Draw September 50-50 Club Winners 7 October 2020
Minutes of Meeting to Draw August 50-50 Club Winners 2 September 2020
Minutes of Meeting to Draw July 50-50 Club Winners 4 August 2020
Minutes of Meeting to Draw June 50-50 Club Winners 4 July 2020
Minutes of Meeting to Draw May 50-50 Club Winners 1 June 2020
Minutes of Meeting to Draw April 50-50 Club Winners 4 May 2020
Minutes of Meeting to Draw March 50-50 Club Winners 6 April 2020
Minutes of Meeting 9 March 2020
Minutes of Meeting 10 February 2020
Minutes of Meeting 13 January 2020
Minutes of Meeting 9 December 2019
Minutes of Meeting 11 November 2019
Minutes of Meeting 14 October 2019
Minutes of Meeting 9 September 2019
Minutes of Meeting 8 July 2019
Minutes of Meeting 13 May 2019
Minutes of Meeting 11 March 2019
Minutes of Meeting 11 February 2019
Minutes of Meeting 14 January 2019
Minutes of Meeting 12 November 2018
Minutes of Meeting 8 October 2018
Minutes of Meeting 10 September 2018
Minutes of Meeting 14 May 2018
Minutes of Meeting 9 April 2018
Minutes of Meeting 12 March 2018
Minutes of Meeting 12 February 2018
Minutes of Meeting 11 December 2017
Minutes of Meeting 13 November 2017
Minutes of Meeting 9 October 2017
Minutes of Meeting 11 September 2017
Minutes of Meeting 12 June 2017
Minutes of Meeting 10 April 2017
Minutes of Meeting 13 March 2017
Minutes of Meeting 13 February 2017
Minutes of Meeting 9 January 2017
Minutes of Meeting 12 December 2016
Minutes of Meeting 14 November 2016
Minutes of Meeting 10 October 2016
Minutes of Meeting 12 September 2016
Minutes of Meeting 8 August 2016
Minutes of Meeting 13 June 2016
Minutes of Meeting 14 March 2016
Minutes of Meeting 8 February 2016
Minutes of Meeting 11 January 2016
Minutes of Meeting 9 November 2015
Minutes of Meeting 14 September 2015
Minutes of Meeting 10 August 2015
Minutes of Meeting 13 July 2015
Minutes of Skatepark Meeting 8 June 2015
Minutes of Meeting 11 May 2015
Minutes of Meeting 9 March 2015
Minutes of Meeting 9 February 2015 (including minutes of skatepark meetings 19 January and 5 February 2015)
Minutes of Meeting 12 January 2015 (including minutes of skatepark meeting 17 July 2014)
Minutes of Meeting 10 November 2014
Minutes of Meeting 13 October 2014
Minutes of Meeting 8 September 2014
Minutes of Meeting 11 August 2014
Minutes of Meeting 14 July (including minutes of skatepark meeting 12 June 2014)
Minutes of Meeting 9 June (including minutes of skatepark meeting 8 May 2014)
Minutes of Meeting 12 May (including minutes of skatepark meeting 22 April 2014)
Minutes of AGM 14 April 2014 (including minutes of skatepark meeting 20 March 2014)
Minutes of Meeting 10 March (including minutes of skatepark meeting 27 February 2014)
Minutes of Meeting 10 February (including minutes of skatepark meeting 3 February 2014)
Minutes of Meeting 13 January (including minutes of skatepark meeting 16 January 2014)
Minutes of Meeting 11 November (including minutes of skatepark meeting 14 November 2013)
Minutes of Meeting 14 October (including minutes of skatepark meeting 9 October 2013)
Minutes of Meeting 9 September (including minutes of skatepark meeting 5 September 2013)
Minutes of Meeting 12 August 2013
Minutes of Meeting 10 June 2013
Minutes of AGM 8 April 2013 (including minutes of skatepark meeting 16 April 2013)

Minutes of Meeting 11 March 2013
Minutes of Meeting 11 February 2013
Minutes of Meeting 10 December 2012
Minutes of Meeting 12 November 2012
Minutes of Meeting 8 October 2012
Minutes of Meeting 9 July 2012
Minutes of Meeting 12 March 2012
Minutes of Meeting 13 February 2012
Minutes of Meeting 12 December 2011
Minutes of Meeting 14 November 2011
Minutes of Meeting 10 October 2011
Minutes of Meeting 12 September 2011
Minutes of Meeting 8 August 2011
Minutes of Meeting 11 July 2011
Minutes of Meeting 13 June 2011
Minutes of Meeting 14 March 2011
Minutes of Meeting 14 February 2011
Minutes of Meeting 13 December 2010
Minutes of Meeting 8 November 2010
Minutes of Meeting 13 September 2010
Minutes of Meeting 14 June 2010
Minutes of Meeting 12 April 2010
Minutes of Meeting 8 February 2010
Minutes of Meeting 9 November 2009
Minutes of Meeting 12 October 2009
Minutes of Meeting 13 July 2009
Minutes of Meeting 18 May 2009
Minutes of Meeting 9 February 2009
Minutes of Meeting 8 December 2008
Minutes of Meeting 10 November 2008
Minutes of Meeting 13 October 2008
Minutes of Meeting 8 September 2008
Minutes of Meeting 11 August 2008
Minutes of Meeting 14 July 2008
Minutes of Meeting 9 June 2008
Minutes of Meeting 20 May 2008
Minutes of Meeting 14 April 2008
Minutes of Meeting 11 February 2008
Minutes of Meeting 14 January 2008
Minutes of Meeting 17 December 2007
Minutes of Meeting 12 November 2007
Minutes of Meeting 15 October 2007
Minutes of Meeting 24 September 2007
Minutes of Meeting 20 August 2007
Minutes of Meeting 23 July 2007
Minutes of Meeting 25 June 2007
Minutes of Meeting 21 May 2007
Minutes of Meeting 16 April 2007
Minutes of Meeting 12 February 2007
Minutes of Meeting 15 January 2007
Minutes of Meeting 11 December 2006
Minutes of Meeting 13 November 2006
Minutes of Meeting 9 October 2006
Minutes of Meeting 11 September 2006
Minutes of Meeting 14 August 2006
Minutes of Meeting 26 June 2006
Minutes of Meeting 22 May 2006
Minutes of Meeting 10 April 2006
Minutes of Meeting 13 March 2006
Minutes of AGM 23 January 2006
Minutes of Meeting 14 November 2005
Minutes of Meeting 10 October 2005
Minutes of Meeting 12 September 2005
Minutes of Meeting 8 August 2005
Minutes of Meeting 4 July 2005
Minutes of Meeting 6 June 2005
Minutes of Meeting 25 April 2005
Minutes of Meeting 21 March 2005
Minutes of Meeting 21 February 2005
Minutes of AGM 24 January 2005
Minutes of Meeting 22 November 2004
Minutes of Meeting 20 September 2004
Minutes of Meeting 23 August 2004
Minutes of Meeting 19 July 2004
Minutes of Meeting 14 June 2004
Minutes of Meeting 17 May 2004
Minutes of Meeting 19 April 2004
Minutes of Meeting 22 March 2004
Minutes of Meeting 23 February 2004
Minutes of Meeting 19 January 2004