A Man of Insignificance to help Friends of Marple Memorial Park!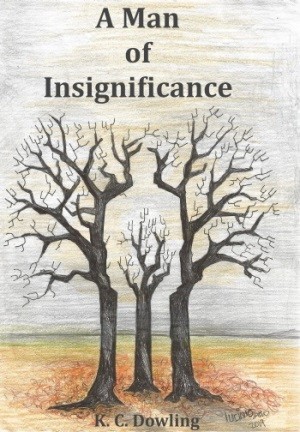 Following the launch of his new book "A Man of Insignificance" in November 2014 local author K.C. Dowling chose to support Friends of Marple Memorial Park by offering to donate a share of the proceeds from its sale. Friends of the Park will receive a portion of the royalties from both direct local sales and Internet sales.
Initially we proposed to put any funds received toward the Marple Skatepark Development Project but longer term income from sales will be used to support other projects in the park too.
Update:
On 20 May 2015 we were very pleased to receive a cheque for £240 payable to Friends of Marple Memorial Park from author K.C. Dowling. This money represents a percentage of the first edition sales, which have now ended. Kevin has also kindly proposed to donate 4% of any future net royalties for 2015 to the Friends of the Park, which is brilliant news too.
Here's an introduction to this fascinating murder mystery story......
When disgraced small time politician Danny Senetti and local GP Maxine Wells become implicated in the ritualistic murder of a reclusive spinster they form an unlikely alliance. Drawn inexorably back almost two hundred years to historic, famine-blighted Ireland they discover more unsolved killings as the trail leads them into the lives of two families across four generations.
Their discoveries unravel the source of the terrible mysterious curse of....
..... A Man of Insignificance.
Here's what the author has to say about supporting Friends of the Park:
Even in sometimes bewildering life-spells, walking through Marple Memorial Park, as I do on an almost daily basis, gives me a tremendous sense of clarity, well-being and elation. I am sure that it offers exactly the same and perhaps even more to many other members of, and visitors to our community. It is of the utmost importance to my life and to the life of those around me that our park is preserved and cared for. Alongside the spirituality, the reality is that the park needs money to ensure its survival and development. The publication of AMOI gives me the potential opportunity to support Friends of Marple Memorial Park in this way as they are the ones who caretake the park in its preservation and ongoing evolution; and I am delighted to be able to offer this.

K.C.Dowling               

How to buy A Man of Insignificance
Buy Direct:
The book can be purchased directly from the author at The Springfield Hotel, Marple and is also available in local outlets.
It can also be purchased on-line direct from the author with a personal dedication here: A Man of Insignificance
You can also get a flavour of the story on the author's own web site here: Excerpts from A Man of Insignificance
Buy from Amazon:
You can buy it from Amazon: A Man of Insignificance where there is an extensive preview of the book's contents.

If you enjoy the book please leave a review.