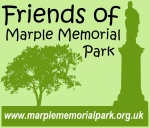 Marple Firefighters' 10k Trail Run - 7 September 2013
Take part in the Marple 10k this year and help raise funds for the Skate Park
The latest fantastic news for the Marple Skate Park Project is that Marple's Firefighters have decided to donate 20% of the money raised by the hugely popular Marple 10K Trail Run this year. Marple's Firefighters have always had strong links with the local community and this is a continuation of this great tradition.
We hope that lots of Skate Park Users and supporters of the Skate Park Project will take part in this year's 10k Trail Run and help us towards our match-funding target by collecting sponsorship for the Skate Park too.
Marple 10k Entry Form | Skate Park Sponsorship Form
Taking Part in the 10k Trail Run
Entry to the event costs £12.50. Entry forms can be obtained from Marple Fire Station or downloaded via this link.
The run starts at Rose Hill, at the beginning of the Middlewood Way. Runners usually start gathering from 9.30am and you will need to register before 10.30am.
The approximate start time is 11am.
The course takes the competitors down the Middlewood Way, just past High Lane, then a gentle climb up onto the Macclesfield Canal and back to Marple. As the trail path is not very wide, runners are set off in a staggered start, in groups of 15 or so, depending on their predicted times. The finish line will be at Marple Social and Forces Club on Lime Kiln Lane, where participants can stop for a well-earned complimentary pint and sandwich.
You don't have to be a great runner to participate and many people walk the course to take part.
Full details about the 10k Trail Run including a history of previous years can be found at their Facebook Group
If you need to contact the organisers, feel free to email them on:
Rob Gall: This e-mail address is being protected from spambots. You need JavaScript enabled to view it
Tom McCracken: This e-mail address is being protected from spambots. You need JavaScript enabled to view it
Or you can call Marple Fire Station 0161 608 1801.
Or by post: Marple Fire Station, Hollins Lane, Marple, Stockport, SK6 6AW.
Running for the Skate Park Fund
Marple Firefighters have agreed to donate 20% of the proceeds of this year's 10k to the Skate Park Development Project. This is going to be a fantastic help but Skate Park Users and anyone else who supports what we are trying to to can also collect their own sponsorship for the Skate Park too if they wish.
If lots of people decide to support our project then this could give us a HUGE BOOST toward the match-funding that we need to raise. Of course you don't have to be sponsored for the skate park - you could run for the Firefighter's Charity or any other good cause of your own choice - or maybe even share the sponsorship money that you manage to raise between a number of different causes.
If you would like to support the Skate Park Project, here's a special sponsor form that you can use. This also has details of ways to get the money to us once you've collected it. For more info contact Mark Whittaker using the details at the bottom of the page.
About the Marple Skate Park Development Project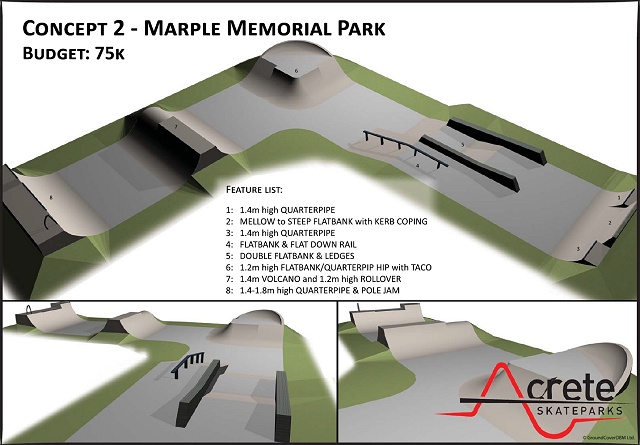 There is a lot more background information about the aims and objectives of the Skate Development Project on our Skate Park Improvements Page and our Facebook Page, including details of where we are up to with our fund-raising. In summary:
Friends of Marple Memorial Park have joined forces with Marple Hall School, Marple Civic Society, Stockport Metropolitan Borough Council and local Skate Park Users to try to raise the funds needed to extend the existing Skate Park in Memorial Park. We want to do this because the feedback from users is that the 13 year old facility, whilst still hugely popular, is no longer meeting the demands of intermediate and experienced users. Our surveys show that 80% of users feel that the skate park needs to be improved and 50% say that they are forced to travel in order to find better facilities.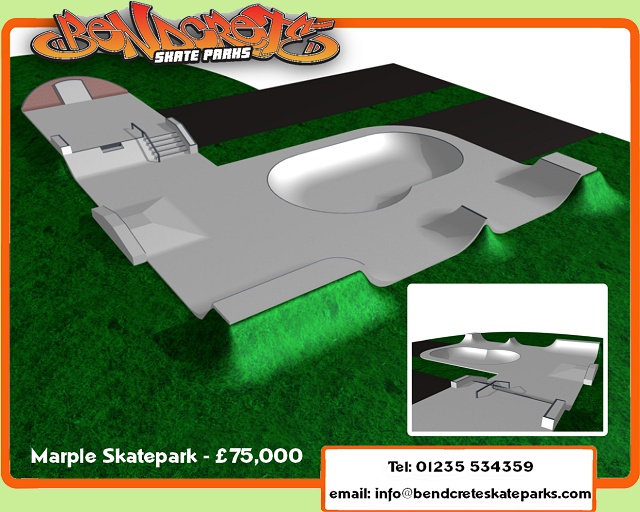 We have provisional designs that we are developing with users. These were tendered at around £75,000 a couple of years ago and we expect to need in the region of £100,000 to complete the project. We've established that the most likely source of funds that we can apply to at the moment is the Veolia Environmental Trust, a landfill trust that operates in the Stockport area. The average Veolia grant awards are between £20,000 – £25,000 with a maximum of £100,000 but their guidance is that for projects with a total cost greater than £25,000, then the applicant must have secured 20% of the funds needed before applying.
For our project this means that we would need to raise between £15,000 and £20,000 before we could apply. We are currently rising to this challenge and seeking help from the local community with funding-raising and sponsorship to achieve our aims. We have currently raised over £5,500 towards our £20,000 target and hope that local people will join in and help us by running the Marple 10k on 7 September 2013.

You can now donate to the Skate Park Fund with Gift-Aid!
If you can't run, walk or crawl for 10k but would still like to support the Skate Park improvement project you can now make a donation on-line through Local Giving and we will receive 25% extra via Gift-Aid if you are a standard rate tax-payer.
Seeking More Local Business Sponsors
Friends of Marple Memorial Park would like to talk to any local businesses who are interested in helping us to raise funds by sponsorship, promotion, or any other ways that you can think of to help us achieve our aims to develop the skate park in Marple Memorial Park. If you think you can help us and perhaps we can help you too then please get in touch with Mark Whittaker:
This e-mail address is being protected from spambots. You need JavaScript enabled to view it
www.facebook.com/marpleskatepark
Twitter @marplewebsite
0161 427 4955