Annual Donors supporting Friends of Marple Memorial Park
The following local businesses are Annual Donors to the Friends of Marple Memorial Park. The money donated by these community minded businesses is used for the benefit of our local park. Please support these businesses as much as you can because they are the ones supporting your local community!
No. 48 Kitchen & Bar: £250 PA Sponsor
An outstandingly good restaurant in the heart of Marple, No. 48 Kitchen & Bar offers authentic Spanish cuisine in homely, attractive surroundings; behind the traditional exterior of a house in Stockport Road, Marple, there beats a rather unexpected heart, with the interior belying the look of the outside and providing the setting for a truly memorable experience and a patio for al fresco dining. No. 48 Kitchen and Bar is located at 48, Stockport Road, Marple, SK6 6AB. Tel: 0161 427 1200.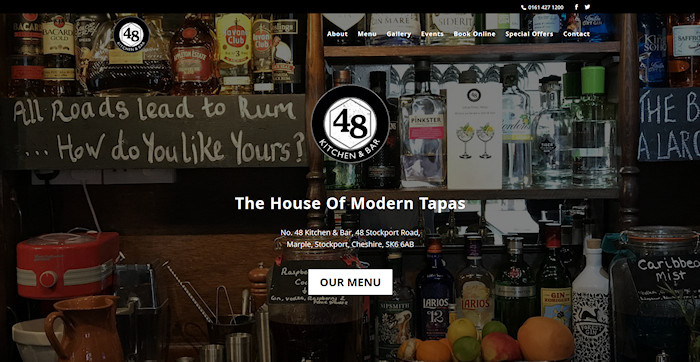 Spanish owned and run, No 48 Kitchen and Bar offers a wide selection of modern tapas and Spanish wines with influences from Spain's many regions, in a relaxed informal atmosphere.
Find out more on the No. 48 Kitchen and Bar web site.
Or their Facebook Page: @No48kitchenandbar
Or follow them on Twitter: @48kitchenandbar
Here's No. 48 Kitchen and Bar's enhanced entry in the Marple Website Directory too.
No. 48 Kitchen & Bar is the first local business to take up the option to become an Annual Donor to Friends of the Park by paying £250PA in two 6-monthly instalments of £125. Can your business support Friends of the Park in this way too?
About becoming an Annual Donor:
An annual donation of £250 or more would be acknowledged on the Friends of Marple Memorial Park web site for a full 12 months with your business details plus web site and social media hyper-links. By special arrangement, Annual Donors will also receive a complimentary free full entry in the Business Section of the Marple Website Community Directory. As well as being a public acknowledgement, the extra benefits can include your business being found during searches on the Marple Website and the links from two strong Marple based web sites will also be beneficial to your own web site's SEO and Google Rankings. All contributions will be promoted via social media, our noticeboards in the park and when we attend local events.