Great welcome to Marple Memorial Park for Coffee Bean Dream!
We were pleased to arrive in time to welcome Sarah from Coffee Bean Dream to the park for the first time on our task day today. Coffee Bean Dream will be in the park selling coffee, cakes and many other kinds of refreshments most Saturdays and Sundays going forward. Friends of the Park are hugely supportive of Sarah bringing her business to the park and we can see already that Reddish Vale's loss is Memorial Park's gain. In the photo below Cllr. Malcolm Allan and Angie cut the ribbons on Coffee Bean Dream's first day in the park.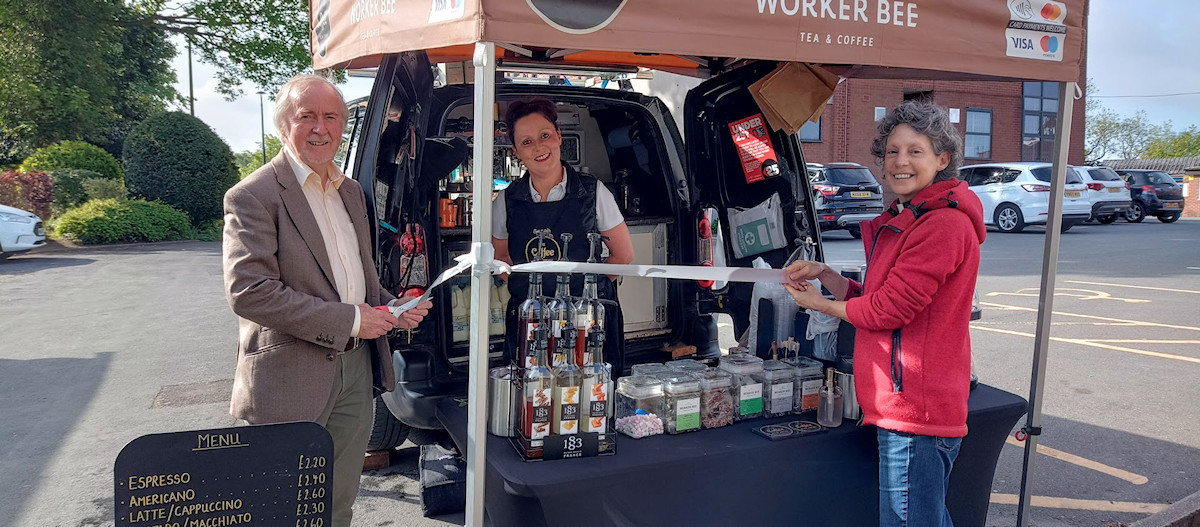 A wonderful day to be working in the park
This was our first mid-month Task Day of 2022 and despite a smaller turnout than our end of month ones we got a great deal of work done. Flowerbeds were weeded, lots of work was done in the Band Room Garden and progress was made on maintaining steps and benches. In particular, the back of the Coronation Bench was given a much needed clean-up and repaint. We also planted our recent purchases from Marple Scouts in the Sensory Bed opposite the Scout Hut for them to enjoy.
We were saddened that vandals have seen fit to destroy 3 new trees near to the Infants Play Area. These were planted by the council at our request and we were watering them regularly to ensure they survived the dry weather. It's hard to understand what motivates anyone to attack our efforts to improve and maintain the park.
Better news is that we remembered to put our collection bucket out this time and park visitors rewarded us by depositing almost £22!