Task Day 24 October 2020
Better weather today meant that we could at last get back onto the flowerbeds, where we finally managed to distribute the mushroom compost that was delivered too late to go on the beds earlier this year. We also worked on shrub beds by the side of Hollins House and down towards the band room. The usual litter pick was conducted, two Rowan trees donated by a member of the public were planted and the war memorial and noticeboards given a clean too.
We also managed to get onto the wildflower meadow area at last and get some stone-picking done.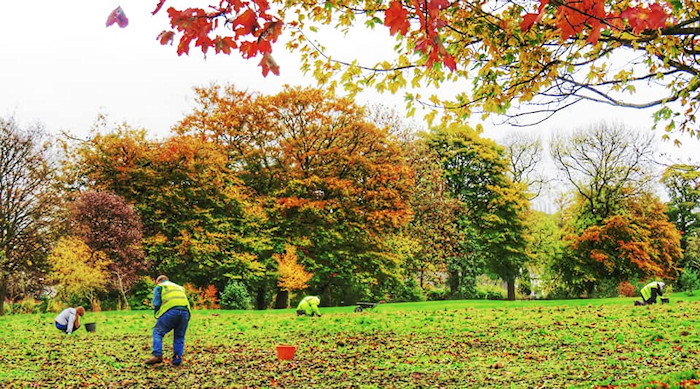 Friends of the Park working on the Wildflower Meadow area (Photo: Chris Paul)
About the Wildflower Meadow
Our plans for the wildflower meadow had been severely disrupted by Covid19 and visitors to the park throughout lock-down and beyond may have wondered what's happening to the field used as a compound during the repairs to Lock 11 completed in May 2019. The Canal and River Trust had handed over funds and seed to Friends of the Park and Stockport Council's Neighbourhood Team in order to turn the area into a wildflower meadow and we were all set to sow the seed in late March. Like everything else, this was stopped in its tracks due to the pandemic but of course nature didn't take any notice and grass and weeds returned with a vengeance. Since restrictions eased the weather hasn't played ball very much but the area has been re-harrowed twice and the wildflower seed was sown recently.
Apart from picking stones that have risen to the surface due to harrowing and the rain, it's now a waiting game and, hopefully, as well as life getting back to normal in Marple as spring returns next year, we'll also be able to enjoy a great display of wildflowers in the park.