Park Heritage - a War Memorial Park
The land for Marple Memorial Park was given by the Carver and Barlow Families of this Parish in Memory of the men of Marple who fell in the Great War 1914 - 1918 and the laying-out was done by Public Subscription.
The park was formally opened on 22 July 1922 with a Dedication Ceremony and Historical Pageant attended by thousands.
In the centenary years of 2014-2018 Friends of Marple Memorial Park feel it is important to remind people why the park came into being and to commemorate and acknowledge the sacrifices made by these men and the suffering of communities in Marple and across the country 100 years ago.
WWI Timeline Tribute to Men on War Memorial
Friends of Marple Memorial Park are commemorating the 1914-1918 WWI Centenaries with a timeline display in the park that we hope will illustrate the impact of the Great War on the Marple Community (and others like it across the country) and encourage local people to find out more about the Marple Men who sacrificed their lives 100 years ago.
The information on display will also be replicated here on this web site and on Social Media to bring it to the widest audience we can.
"Marple Pals" Guided Walks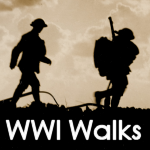 In the summer of 2014 Friends of Marple Memorial Park and Marple Local History Society organised six guided walks led by Fire Fighter Andy Cook, co-author of the book "Remembered - Marple Men who fell in The Great War". The walks were Andy's way of paying tribute to some of the men of Marple who fell during WWI. He led up to 30 people at a time on two different routes around Marple Town Centre showing where some of the 141 men listed on Marple War Memorial had lived. He explained the lives they left to go to war and told how they met their ends in front of the homes they left behind. The walks illustrated the devastation that must have been felt by our town and other communities like it throughout the country.
Rose Wall Hedge around War Memorial Flowerbeds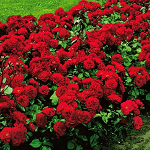 As part of the regular tasks carried out by Friends of the Park, one of the most important to us is the maintenance and improvement of the flowerbeds around the War Memorial. The beds have been vastly improved since since 2001, when the removal of huge conifers that had overgrown and obscured the memorial kick-started improvements that continue today.
With council cuts over recent years, all maintenance is now carried out by the group and new plants and shrubs are mainly donated, funded by the local community or grown from seed by volunteers.