Saturday 26 January 2019 between 10am and 2pm.
We like to keep a record of what we get up and here are details of past task days.
Task Day 15 July 2017
Mixed weather didn't stop our volunteers turning out in force today and getting stuck into the Sensory Garden, trimming of borders, maintenance of shrub beds, litter picking, and work to the Bandroom garden.
Plenty of generous park users out too, with almost £20 placed in our donations bucket.
We rounded the day off with a visit to The Samuel Oldknow Bar on Market Street to help them celebration winning the High Peak Camra Pub  of the Season award. Tough work but somebody has to do it!
Task Day 24 June 2017
A much quieter turnout than usual saw lots of planting in the flowerbeds and shrub beds and lots of watering in of new plants. We also completed the refurbishment of three park benches sponsored by local families and erected some temporary protection for a commemorative plaque where a tree was recently lost.
The park itself was quieter too but we still had just over £10 donated by park users during the day.
Task Day 10 June 2017
Due to heavy rain from the early hours of the morning our planned task day on Saturday 10 June was called off.
A smaller group attended an alternative session arranged at short notice for Sunday 11 June, when we were able to tend flowerbeds, clear the litter from the park and carry out maintenance work on the bandroom garden and various other items.
Task Day 27 May 2017
Task days are coming round thick and fast now and there is always so much to do! Today we focussed mainly on edging and weeding flowerbeds and borders, watering the newly planted hedges and shrubs and treating park benches and other small maintenance tasks. We also cleared the French Boules court of weeds ready for the summer.
It was great to see the contractor working on the resurfacing of the main pathway into the park too.
As usual we had our bucket out and donations of just over £6 were made by park users.
"Ad-hoc" task day 23 May 2017:
Those of you who read the Friends of Marple Memorial Park minutes of meetings will know that the Bowling Green is soon to be fenced in a further endeavour to stop the playing of football, riding of bikes and even playing of golf on the green. You will also know that after two years of pressing the council to resolve legal issues surrounding the playing of informal sports in the park that has in the past prevented us from installing a pair of goals, we have recently reached agreement that this does not contravene the existing by-laws. So during an "ad-hoc" days day on Tuesday 23 May we finally completed the installation of a pair of goals in the park so that kids can have a kick-about.......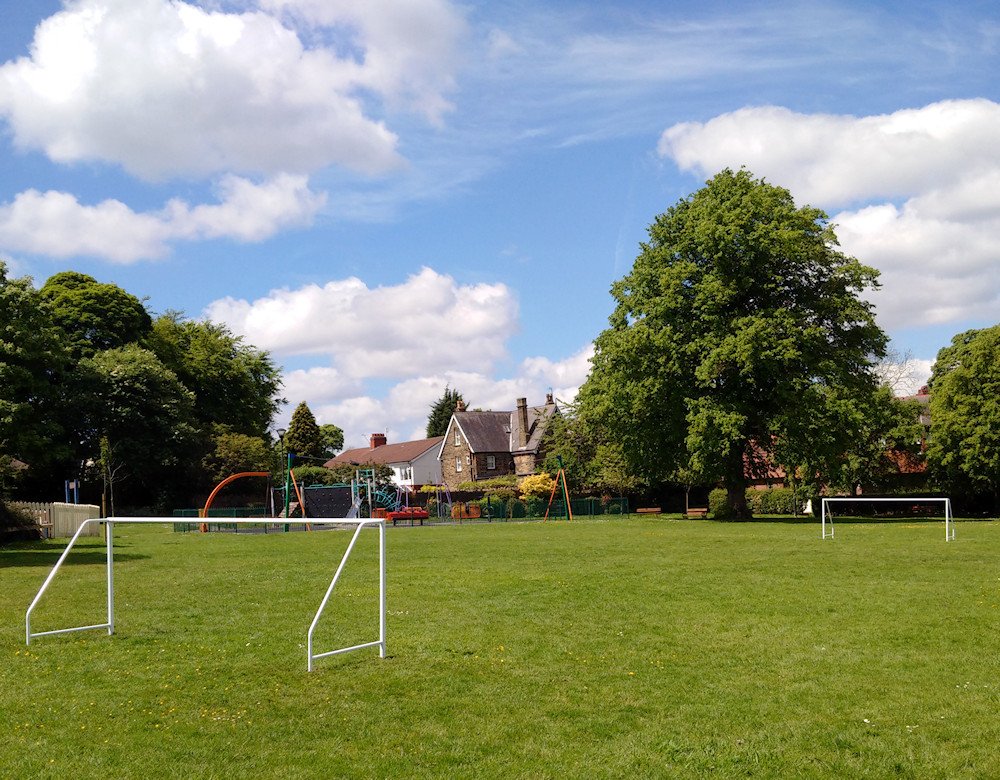 In addition, also on 23 May, we painted and stencilled the back of the old quarter-pipe ramp on the skatepark after it was closed off with blockwork and screeded by the council's contractor. Here's a before and after: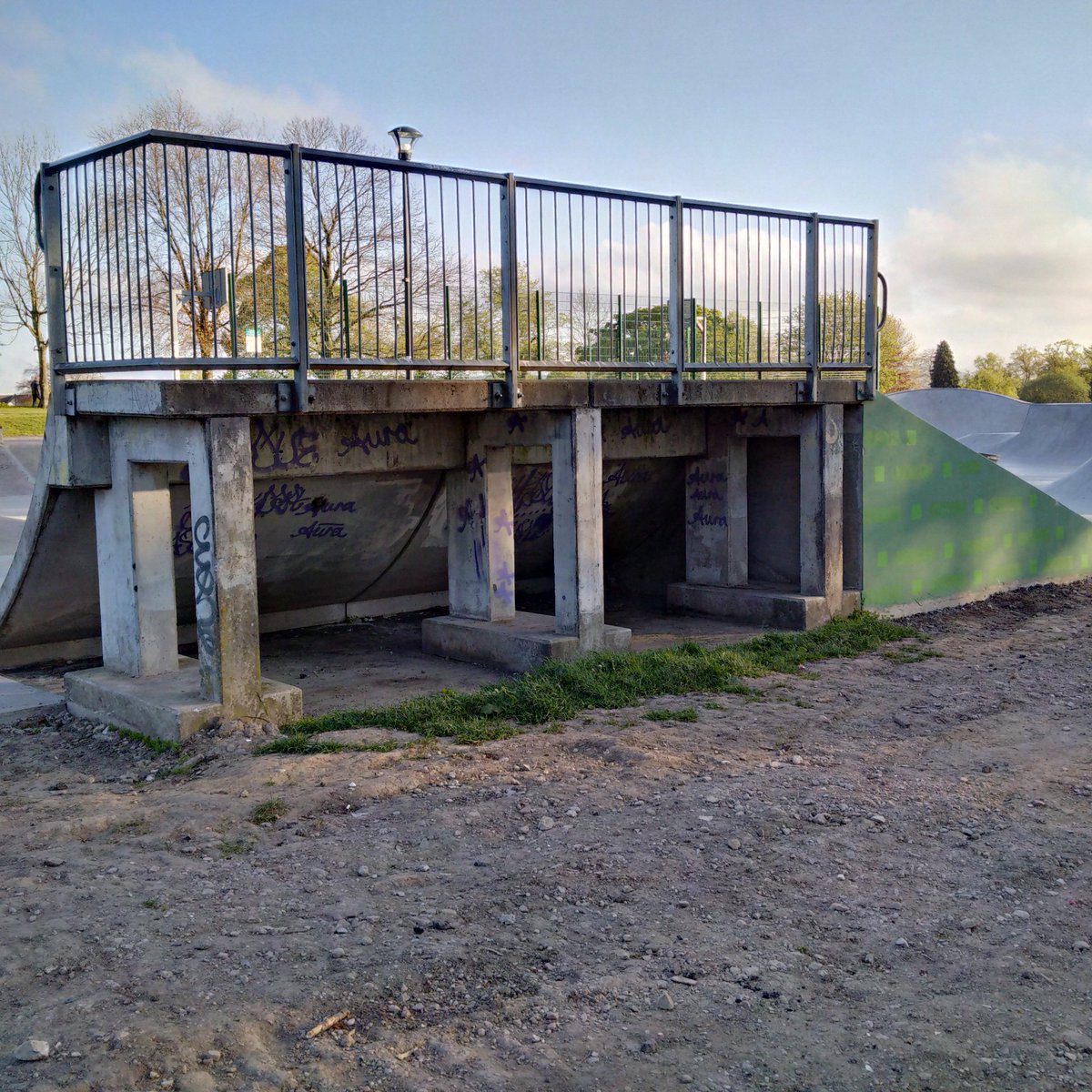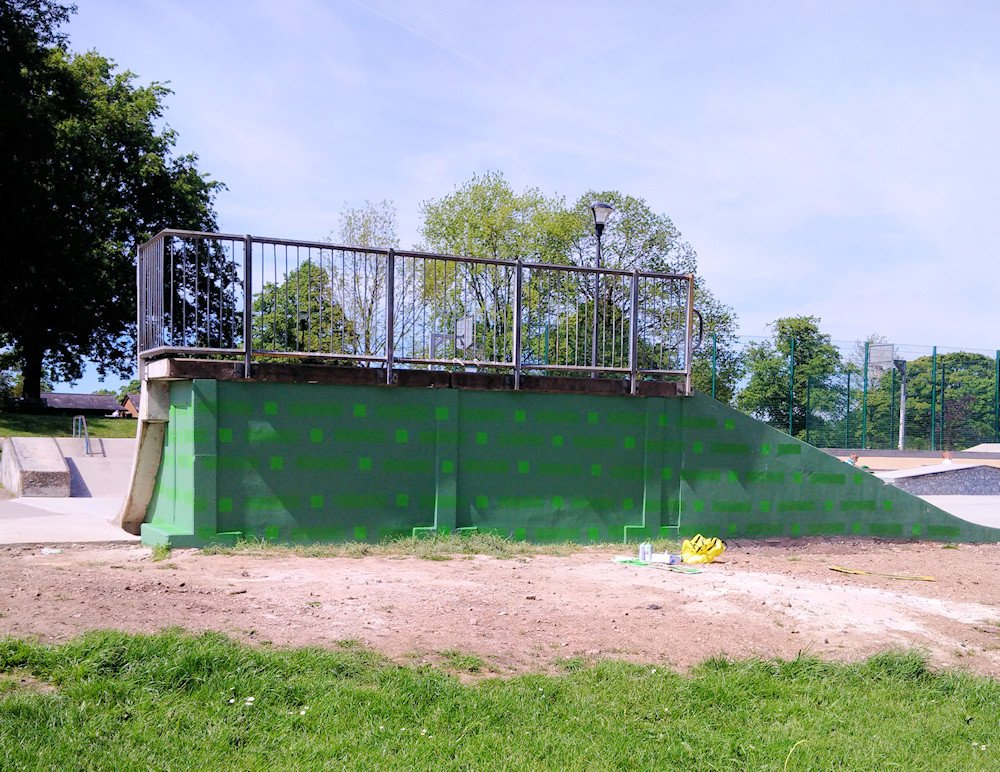 Task Day 13 May 2017
Our volunteers have been really busy in the park this week, culminating in today's task day. We've had a big push on the Bee Friendly Project, which is funded by donation of £200 from Stockport Hydro and £300 from Anchorpoint Stockport.
Tasks have included planting of a Bee Friendly hedge around the War Memorial beds with 100 bare-rooted Hawthorn and a dozen Berberis. This took a great deal of work to extend the border and prepare the soil. We also planted 1,000 Snowdrop bulbs in the flowerbeds ready for next spring. Snowdrops are really import for bees, as they are pretty much the first bee friendly thing to show after a long winter. We also planted several new shrubs that are bee friendly too.
Other tasks this week included preparing 3 steel benches rescued from the teen area during construction of the skatepark. These have been blast-cleaned, primed and under-coated for us free of charge by Marple Blasting Service at Wood Farm and are now being painted and stencilled before return to the park for installation. We also cleaned up a set of surplus goalposts donated by the council ready for installation too. These will be fitted in the field behind the Infants and Junior Play areas in the near future.
Work was also done in the Bandroom garden and the shrub beds near the council offices and a park-wide litter-pick done to round things off. Once again park users showed their support for what we do by popping over £42 in our bucket!