Saturday 29 June 2019 between 10am and 2pm.
We like to keep a record of what we get up and here are details of past task days.
Task Days 29 & 30 March 2019
Our Task Day scheduled for 16 March was rained off, so it was good to get some sunshine this weekend!
On Friday 29th we worked with Greenspace Project Officer Wayne Bardsley to repair the fence at the entrance to the park next to Lock 12. This had been broken in the winter by fallen branches - repaired by us - and then broken again by vandals after they helped the large post reached the end of it useful life by breaking it off and chucking it in the canal. Greenspace provided all the materials needed for the job and with a brand new main post hopefully this will last a good few years now.
On Saturday 30th we were mainly focused on the flowerbeds once again, which are sprouting fresh new colours in every direction. We also launched this year's "Little Growers" scheme, where we invite children to plant a seed, take it home to nurture and then bring it back to plant in the park once it has grown. We had over 20 little visitors, so this year we're off the a great start. We will be repeating this on Saturday 13 and Saturday 27 April too.
We also had a clear-out of our store and put out some free pots for people to help themselves. With donations for these, from Little Growers and from Park Visitors we ended up with just over £35 in our collection bucket.
Task Day 23 February 2019
Wow, isn't the park looking fantastic after a few days of beautiful weather! The crocuses are spectacular!
We had a great turnout for our second task day of the year and everyone was soon stripped down to t-shirts in the sunshine.
Work was mostly focused on weeding and tidying the flowerbeds but we also spread lots of wood chippings on the brandroom borders and the council office shrub beds. We also picked litter and emptied the bins, which were overflowing due to the park being so busy, and rescued sections of vandalised fencing that had been thrown into the canal.
Great comments from visitors to the park and over £24 was added to park funds thanks to donations in our collection bucket.
Task Day 26 January 2019
In 2018 we held 24 task days, working over 1,000 volunteer hours and it was great to get our 2019 season underway.
After clearing glass, a banister rail and a beer barrel (empty unfortunately) from the park we started bashing saplings that had self-seeding in the woodland walk area while others worked on tidying flowerbeds and shrub beds throughout the park.
We began maintenance in the Infants Play Area, where some shrubs have been over-growing the play area surface.
We also did the usual litter-picking and removed the wreaths from around the War Memorial.
Less pleasant was having to remove lots of dog mess from in and around the flowerbeds before we could begin work on them.
Visitors to the park seemed happy to see us back too and kindly deposited over £25 in our collection bucket. Thank you!
Task Day 29 December 2018
A good turn-out for our final task day of 2018, taking the total for the year to 24, and over 1,000 volunteer hours worked since January. Today's efforts included a tidy up of flowerbeds front and rear of the library, litter-picking, planting bulbs, clearing leaves from the car park and driveway, clearing windfall branches from the park and even clearing the access to Asda.
Several of us finished the session in Oldknow's Bar, which is becoming a new tradition and a great way to end the year.
Here's a photographic look-back over the 12 months of 2018 with Friends of the Park.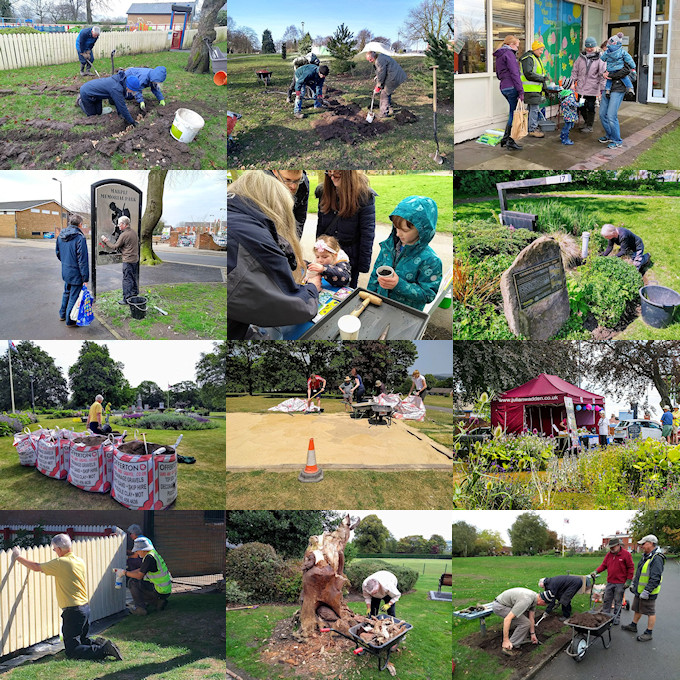 Task Day 24 November 2018
One of our volunteers' main tasks today was distributing 4 tonnes of topsoil provided by the council over the main flowerbeds, which should settle nicely after rain, frost and show over the coming winter. The other main task was planting bulbs around the benches over-looking the bowling green. There were some glitches with the camera today so a number of shots have gone missing but thankfully the one of volunteers doing a Conga over planted bulbs didn't get lost!
We also met with Andy and Tom, a couple of guys representing Forever Manchester, who came along to find out more about what we do. Forever Manchester is a charity that raises money to fund and support community activity across Greater Manchester. They've been a great support to Friends of the Park with the recent Auto Trader Community Fund grant towards the Ocean See-Saw and a CDL Fund grant and an FM Awards grant that both contributed toward the skatepark project.

This time we left some handmade cards near the War Memorial with our normal donation bucket. The cards were made by one of our volunteers and were available on an "honesty box" basis. Visitors to the park kindly left over £18 in our bucket.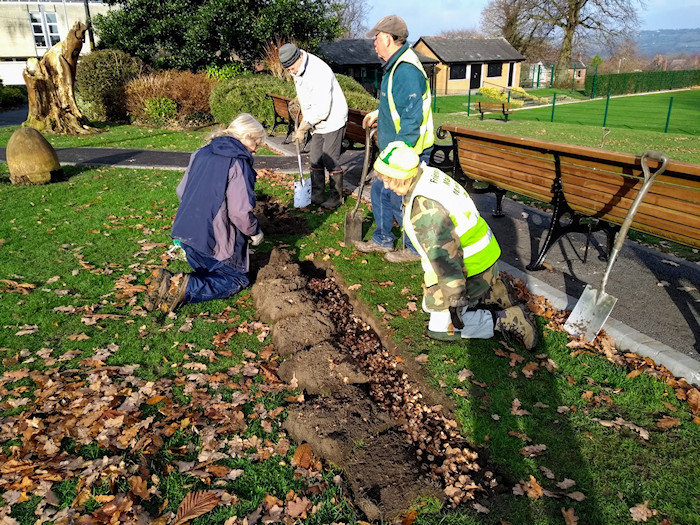 Planting Bulbs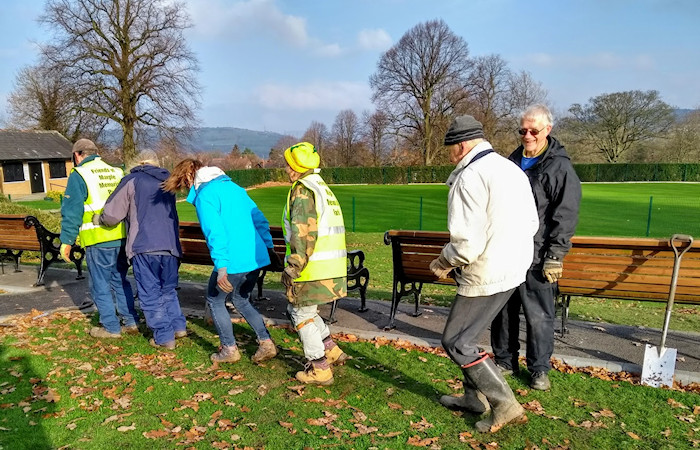 Come on do the Conga!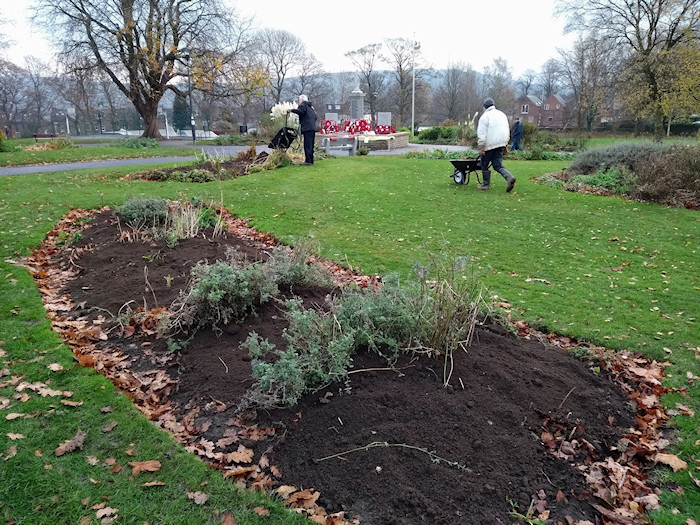 Topsoil added to Flowerbeds