Saturday 29 September 2018 between 10am and 2pm.
We like to keep a record of what we get up and here are details of past task days.
Task Day 29 August 2015
Our first task day using power tools was another productive day, as we tried out our brand new standard and long-reach petrol-driven hedge trimmers. It's taken a long time to get to this stage but it should make many tasks much easier.
While some played with new toys, others were grafting hard to keep the flowerbeds in great shape. We received lots of wonderful and encouraging comments about them and park users dropped nearly £25 in our donation bucket to show their appreciation. Work on park benches and litter-picking too means that the park is still looking its best thanks to Marple volunteers.
Task Day 23 August 2015 (Town Centre Bench)
It's been two years since the Friends Group first offered to venture outside of the park and refurbish the benches on Market Street, Derby Way and other areas of the Town Centre. With the main obstacles of power-tools and risk assessment training finally overcome, we are now at last in a position to be able to do this work whilst covered by the council's insurance.
Trial bench completed
After a prolonged campaign, lobbying the council to help us get into this position, we're delighted to have completed our first trial bench at long last on Sunday 23 August. This is the one on Market Street, near to the NatWest Bank, and we hope that people who see it will agree that it's a huge improvement. You can see the transformation in the photos below:
Why do a trial bench?
Task Day 15 August 2015
A productive day as a dozen volunteers beavered away in the park weeding beds and paths, planting new plants and shrubs, treating benches and sculptures, trimming hedges and shrubs and picking up litter and dog mess. Marple Allotment Association were out in force too. We had our donation bucket out and also gave away some tiny potted Christmas trees for kids to grow on. Generous park users contributed over £16 to our gardening fund. It's good to be appreciated, thank you!
Task Day 25 July 2015
Glorious weather for this weekend's task day and mostly all hands to the shrub bed near to the Bowling Green, which we hadn't realised was quite so overgrown! Other tasks included treatment of benches and sculptures, planting in the Garth Road shrub bed, weeding and leveling of the French Boules Court, a few plants added to the flowerbeds, litter picking throughout the park and, frustratingly, picking up quite a lot of dog mess!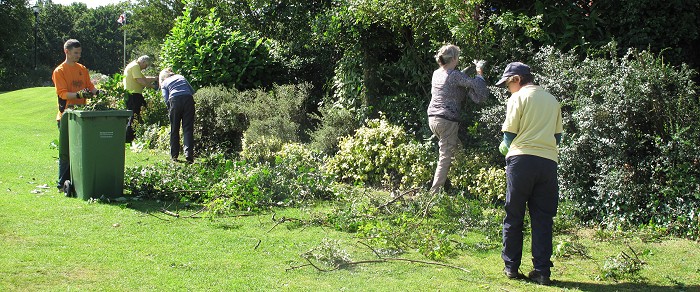 It was good to chat with new local councillor Annette Finnie, who was very complimentary about the efforts of our volunteers, and several other park users too. One chap returned after talking to us with a huge bag of copper coins. We've still to count this yet but other members of the public donated nearly £8 in our bucket too.
Task Day 11 July 2015
This week volunteers tackled the woodland behind the library, treatment of benches, tidying of the Garth Road shrub bed, hacking back of ivy on the toilet block, trimming of flowerbed borders, litter picking and repair of a picnic bench in the Infants Play Area. Another good day, thank you folks!